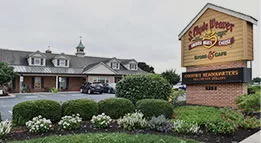 If you live or work in southeastern Pennsylvania or if you're visiting the beautiful scenery and attractions we have here in Lancaster County, stop by the S. Clyde Weaver store and café in East Petersburg.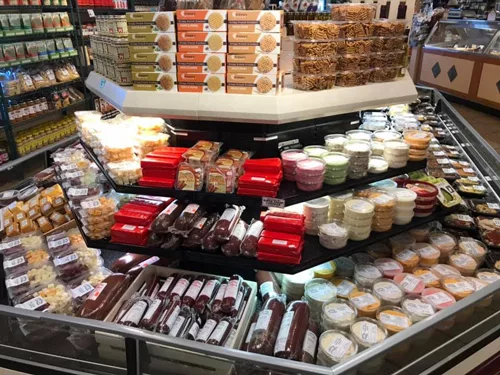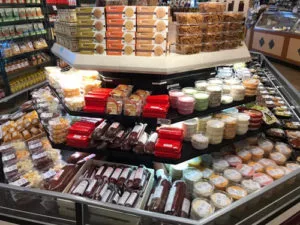 Enjoy a meal in our café and purchase some of our specialty products you won't find online to take home. A truly unique spot in East Petersburg, our store and café is the perfect place to experience the traditions and tastes that make Lancaster County so special.
Enjoy Lunch in Our Café
Our beautiful café is the perfect place to enjoy lunch in East Petersburg!
We have ample seating for large groups as well as individuals looking to have a relaxing lunch. Have a seat inside and get cozy with our soup of the day and a delicious, made-to-order sub or one of our signature sandwiches. Our menu items include S. Clyde Weaver's artisanal meats and cheeses, so you can enjoy the amazing quality and delicious local flavors in every bite.
In addition to lunch, you can enjoy a delicious breakfast in East Petersburg at our café. We serve breakfast all day, so no matter the hour, if you're in the mood for homemade baked oatmeal or a savory breakfast sandwich, we have all the classic breakfast selections you're looking for. Sip on coffee and start your day right with a delicious breakfast made from fresh, quality ingredients.
Bring Local Food to Your Table
When you're done enjoying a bite to eat in our café, browse our selections and purchase some quality meats, cheddar cheese, swiss cheese, or other delicacies to bring home to your table. In addition to the classic choices we offer online, we carry many more products at our store and deli in East Petersburg. Pick up some farm-fresh favorites to complete your dinner, some wholesome snacks to enjoy on-the-go, and quality ingredients to include in your cooking at home.

At S. Clyde Weaver, you'll find the very best foods to give you an authentic taste of Lancaster County, a place known for its time-honored culinary traditions. Don't settle for typical grocery store deli selections. Instead, visit our store café and discover meats, cheeses, side dishes, snacks, desserts, and more that are a cut above.
Our products provide the perfect way to add a special touch to your next dinner party. Let us do the work so you can enjoy amazing Lancaster County foods at your own dinner table.
Come Visit Us in East Petersburg
Come visit our retail store and café in East Petersburg today to enjoy a mouthwatering meal and to take home some goodies your whole family will love.
We're open Monday through Saturday from 9 a.m. to 5 p.m. We are closed on Sundays. You'll find us at 5253 Main Street, East Petersburg, PA, 17520. If you have any questions, give our staff a call at (717) 569-0812.

Browse our menu online and stop in soon! We look forward to sharing our gourmet products with you and showing you some heartwarming Pennsylvania Dutch hospitality.
5253 Main Street,
East Petersburg, PA 17520
(717) 569-0812
Hours:
Cafe Hours are 9 am - 5 pm

Monday - Friday: 9 am - 5 pm

Saturday: 9 am - 5 pm

Sunday: closed