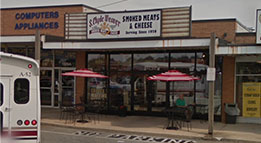 Lititz Pike Store
Nestled in the heart of Lancaster County, you'll find our Lititz Pike Store. Its convenient location makes it the perfect place to pick up lunch or enjoy some shopping in Lancaster. Our Lititz Pike store features gourmet meats, cold cuts, and cheese for sale in Lancaster that you can't find in other stores or online — not even through the S. Clyde Weaver online store. Come in today and try our Pennsylvania Dutch delicacies!
Enjoy a Lancaster-Style Lunch
For a great lunch in Lancaster, stop into the S. Clyde Weaver store. When the weather is nice, have a seat at one of our outdoor tables, shaded by our awning. You can also have a seat inside or order your lunch to-go, making for a fast and easy meal that will far surpass any typical options for a quick lunch for sale in Lancaster.
Our made-to-order subs, signature sandwiches, soups, and more are all made with the quality ingredients that have given S. Clyde Weaver our reputation for amazing Lancaster County food products. If you try something you love while you're here, look for the ingredients in our deli to make it again at home!
In addition to lunch, we also offer breakfast all day, so you can enjoy breakfast favorites, including our mouthwatering smoked bacon, any time of day. You won't find a breakfast sandwich on Lititz Pike or anywhere nearby that rivals the quality of S. Clyde Weaver's. If you're coming in to shop, take a moment to enjoy a cup of coffee and a sticky bun!
Bring Local Food to Your Table
Our deli in Lancaster stays true to its heritage with Lancaster County and Pennsylvania favorites your whole family will enjoy. We also offer international delicacies you won't find at the grocery store. In addition to the lunch meats and cheese that have given us our reputation for superior quality and amazing taste, we also carry a variety of other products, from gourmet snacks to fresh-baked cookies, seasonal favorites, and more.
Come in and fill up a basket of our deli meats, cheeses, and other delicacies for an unforgettable picnic. Or, stock up on gourmet products to take your entertaining to the next level. Or, you can simply purchase something to make dinner tonight extra-special. With S. Clyde Weaver, you can enjoy Lancaster favorites that are as wholesome as they are delicious.
Come Visit Us in Lancaster
Come visit our store in Lancaster today, located at 1509 Lititz Pike, Lancaster, PA, 17601. We're open from 9 a.m. to 5 p.m. Monday through Saturday. Our store is closed on Sundays. If you have any questions, call the store at (717) 392-5244. We would be happy to assist you in any way we can!
If you want a taste of Lancaster, there's no better source than S. Clyde Weaver. Feel free to browse our menu online for our freshly prepared foods and plan to shop at our store, where you can experience even greater variety than you'll find online and try some amazing products you'll want to come back for, time and time again.
1509 Lititz Pike,
Lancaster, PA 17601
(717) 392-5244
Hours:
Monday - Friday: 9 am - 5 pm

Saturday: 9 am - 5 pm

Sunday: closed