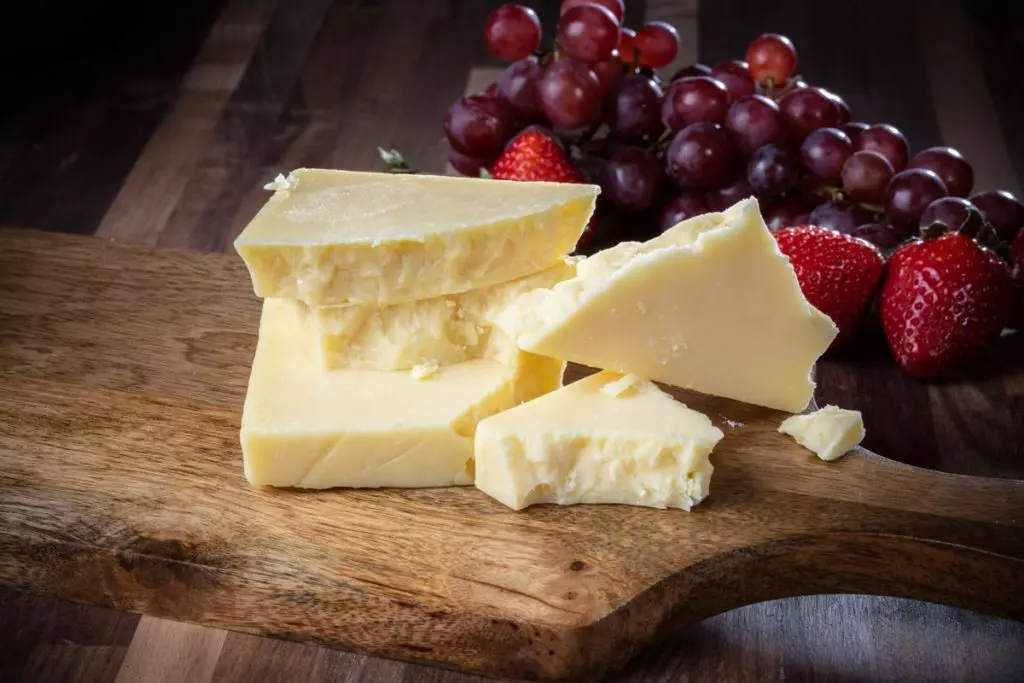 Aged 5 Years
5 Yr Aged Cheddar
Description
Our premium aged cheddar. Best in class — aged minimum five years.
Sink your teeth into the robust flavor of five-year aged, super sharp mature cheddar. This cheese starts its journey in Canada before it arrives in Lancaster County to finish the aging process. If you're looking for extra sharp, aged cheddar cheese from Pennsylvania, look no further than S. Clyde Weaver.
The process begins in Québec with a secret formula and skilled cheesemakers who create the finest cheddar. During early aging, the cheese must pass a rigorous grading process. Only the best cheese with the perfect taste and texture arrives in Pennsylvania for long-term aging. When you try some of our specialty cheddar cheese, you are only getting the best!
Weaver's extra sharp cheddar cheese, available online, completes the four-year aging process in Lancaster County. Some premium lots are held for additional aging — be sure to try our 7 yr. Vintage Cheddar and 10 yr. Private Stock Cheddar for a truly remarkable experience.
Bring home a best-in-class, sharp cheddar cheese block from S. Clyde Weaver today!
Enhance Your Recipes With Sharp Cheddar Cheese
Our five-year aged cheddar tastes incredible on its own or paired with a charcuterie board of other fine cheeses, premium meats, crackers and bread. You can add this rich, complex flavor to recipes such as old-fashioned macaroni and cheese, quiches, scones, soups and casseroles. The cheese adds vibrant color and a delightful flavor to many casual or formal dishes you can share with family and friends.
Best Extra Sharp Cheddar Cheese for Sale in Lancaster
Locals throughout Pennsylvania can shop our fresh cheese and meats at one of our store locations or farmers market stands. Our family-run business is proud to serve our surrounding communities with the best ingredients possible. We can help you discover the perfect products for meals and food pairing you want to try. If you'd like some inspiration, check out a list of recipes we love.
Order Your 5-Year Aged Cheddar From S. Clyde Weaver
At S. Clyde Weaver, we can quickly ship your purchases anywhere in the nation. When shopping online, explore our other aged cheddars, with some options reaching up to 21 years of maturity. We also offer cheese blocks and cheese spreads you can add to your cart. Place your order today!
Ingredients: Unpasteurized milk, bacterial culture, salt, microbial enzyme
*Percent values are based on a 2,000 calorie diet.