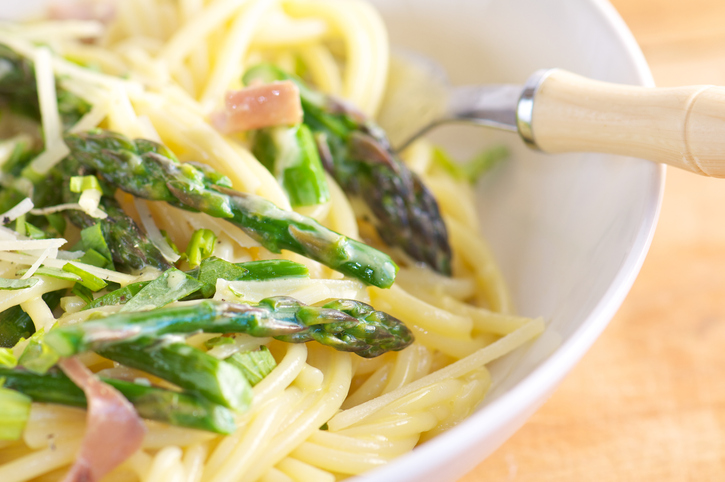 ingredients
1 lb. fresh asparagus, trimmed, cooked al dente
6 oz. prosciutto, sliced into thin strips
2 Tbsp. olive oil
1 medium onion
1 Tbsp. butter
1 cup heavy cream
1 lb. pasta, cooked, drained
2/3 cup grated Italian Reggiano parmesan
Recommended pasta shapes for this sauce include penne, maccheroncini, or ziti. Westphalian ham can be substituted for the prosciutto. This will give a smokey flavor.
directions
Cut cooked asparagus into 3/4 inch lengths.

Saute onion in oil and butter, then add prosciutto.

Cook 2 - 3 minutes without letting prosciutto become crisp.

Add asparagus, turning to coat well in oil/butter/onion mixture.

Add cream and turn down heat.

Cook about 30 seconds, stirring until cream thickens.

Correct seasonings.

Turn sauce out over pasta and toss thoroughly.

Add 1/3 cup grated parmesan and toss again.

Plate into 6 portions.

Top pasta with remaining 1/3 cup of parmesan.