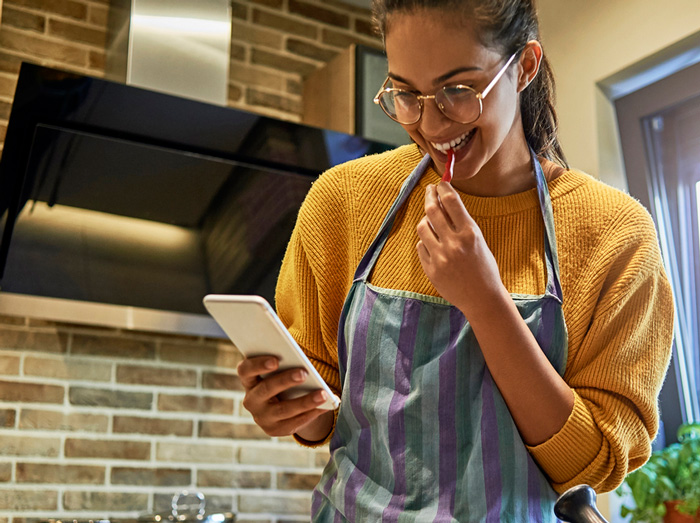 PARMIGIANO CRISPS
ALSO CALLED FRICO
½ pound finely shredded Parmesan*
Preheat oven to 350 F. In small bowl grate parmesan. On Teflon baking sheet spoon level tablespoons of mixture in mounds about 4 inches apart and spread mounds into 3 inch ovals. Bake the crisps in the middle of oven until golden brown for about 10 minutes. Cool crisps completely on baking sheet and remove carefully with spatula. Crisps can be made up to two days in advance and kept between layers of wax paper in an airtight container at room temperature. Crisps can also be made into a variety of shapes and filled with salad, bruschetta, etc. Makes 16 – 18 crisps.
PROSCIUTTO WRAPPED DATES
8 ounces pitted whole dates*
1/8 cup of mango juice*
1 tablespoon of pomegranate molasses*
6 – 8 slices prosciutto*
If necessary remove pit from dates. Combine mango juice and pomegranate molasses and pour over dates. Let stand at least an hour.
Depending on size of dates, cut dates in halves or thirds. Wrap one piece of prosciutto (pancetta can also be used) around each date and toothpick. In non stick pan, sauté wrapped dates over medium heat until crispy. (You can add one tablespoon of olive oil.) Remove dates from pan, cool, and serve with toothpicks. Serves 6-8.
CHEESE BALLS
½ cup freshly chopped mint sprigs
¼ cup freshly chopped green onion
2 ounces roasted red pepper*
8 ounces crumbled feta cheese*
6 ounces plain cream cheese*
½ teaspoon ground cumin
1 tablespoon crème fraiche
Black pepper to taste
Rinse mint, discard stems and chop finely. Rinse green onion, chop and also chop red pepper.
Finely mash feta with fork and mix together with cream cheese, crème fraiche, onion, red pepper, fourth of mint, all cumin and salt to taste.
Shape dough into small balls and roll in remaining mint. Parsley can also be used here. Refrigerate for 2 hours. Serves 4-8.
DATES STUFFED WITH PECANS AND PARMIGIANO-REGGIANO
¼ pound pitted dates*
¼ pound Parmigiano Reggiano*
¼ pound pecan halves*
Take the pitted dates, place a pecan half in center and then add small thin shard of cheese. Serves 4-8.
Dates can also be stuffed with pate, cream cheese, a variety of blue cheese or fresh goat' milk cheeses.
BELGIAN ENDIVE STUFFED WITH WALNUTS AND CHEVRE
½ pound endive, cleaned and separated (3 heads)
½ pound of chevre with honey*
¼ pound roasted walnuts* (1 cup)
1 tablespoon walnut oil*
1 teaspoon lemon juice
Mix chevre, oil and lemon juice. Spread into the leaves of endive. Top with roasted walnuts. Serves 4-6.
OLIVE PASTE WITH BLUE CHEESE CANAPE
¼ pound, mixed pitted Greek olives*
1 tablespoon roasted minced garlic*
2 tablespoons pine nuts*
3 tablespoons Spanish olive oil*
¼ inch slices of crusty French baguette*
¼ pound Cabrales or Gorgonzola* Black olives or capers to garnish
Place olives, garlic, pine nuts, oil in a food processor and chop finely. Spread mixture on the bread slices. Top with thin slice of blue cheese and garnish.
SQUASH-OLIVE PANCAKES
12 ounces, grated butternut squash
1 teaspoon dried thyme
½ cup fresh parsley sprigs, chopped
4 tablespoon, sliced, pitted Kalamata olives, chopped*
¾ cup green onion, chopped (use tops too)
2 eggs*
1/3 cup flour
1 tablespoon crème fraiche
3 tablespoons of California olive oil*
Freshly ground pepper to taste
Salt to taste
Grate the squash and combine with parsley, thyme, onion, crème fraiche, olives, eggs, flour and seasoning to taste.
Heat oil in pan. Using a tablespoon to measure, form zucchini mixture into small pancakes and fry over medium heat for about 4 minutes on each side until browned. Serve with crème fraiche, pomegranate molasses and serve warm. Serves 4-6.
AJVAR AND CHEVRE CROSTINI
Spread a crostini toast with chevre, top with the ajvar and garnish with capers.
Ajvar is a special kind of spread made of roasted red peppers, eggplant, garlic.
TRI-COLORED TORTELLINI WITH DIP
Cook Weaver's frozen tri-colored tortellini* as directed. Cool for a few minutes and then using a long toothpick or bamboo skewer, slide on the tortellini. Make an easy dip for them by using crème fraiche* and freshly grated pepper or Greek yogurt with some roasted garlic and preserved lemon.
---
* Denotes ingredients found at S. Clyde Weaver