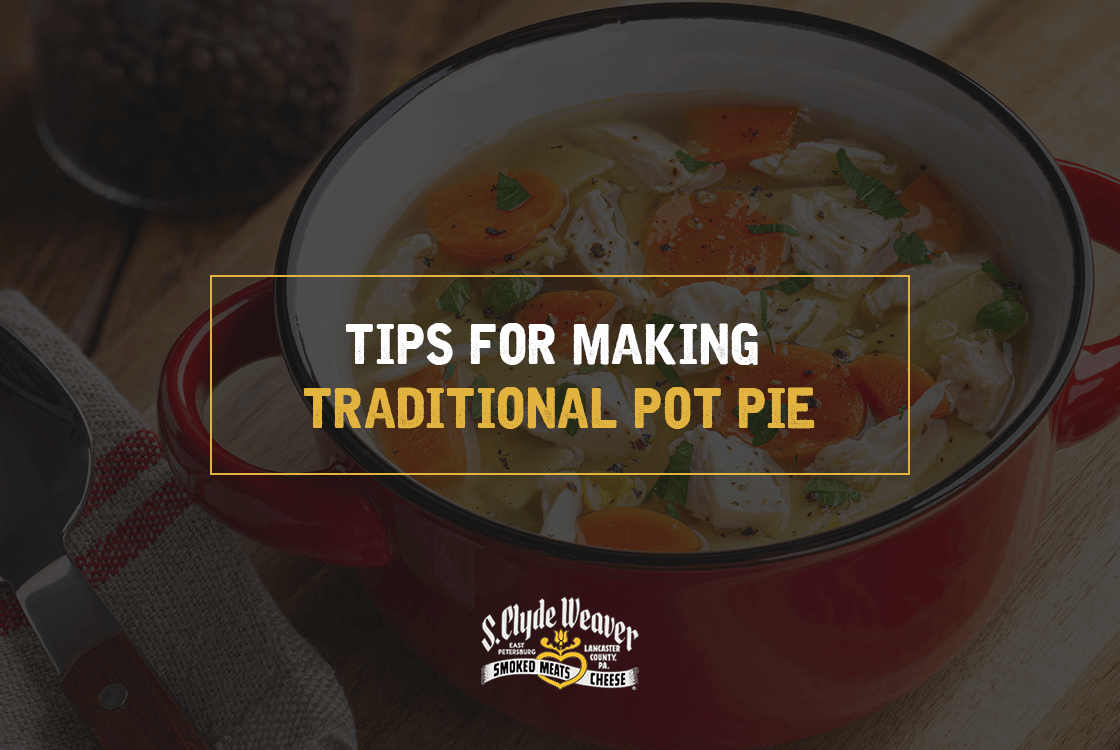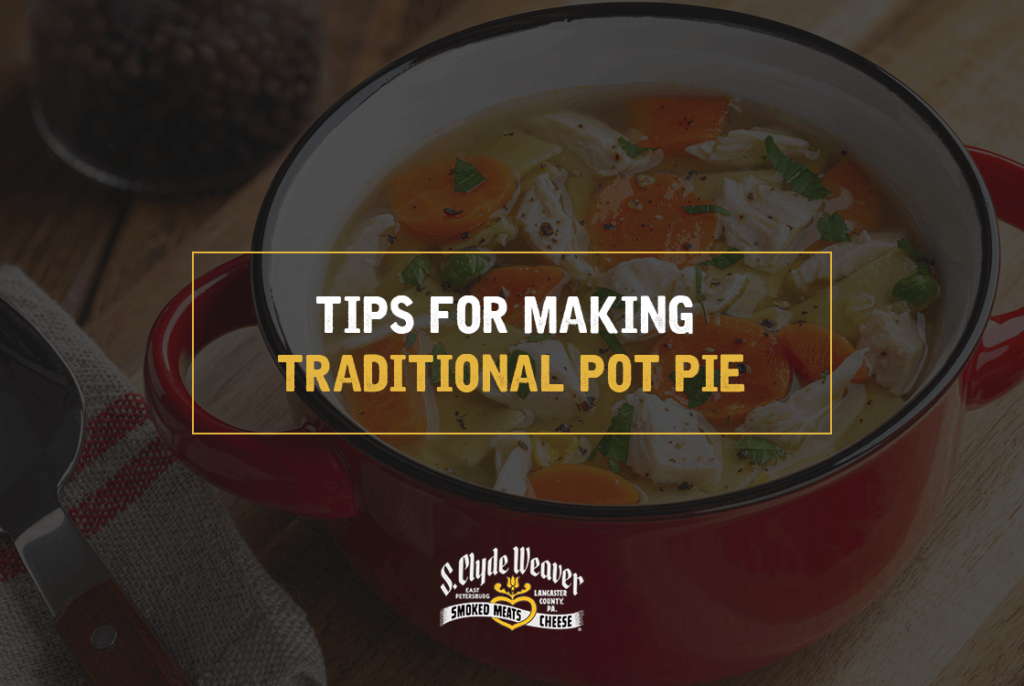 If you're at all familiar with Pennsylvania Dutch Country in Lancaster County, you likely know it's home to a myriad of delicious foods and recipes, from hearty scrapple to rich apple dumplings. Best of all, they're made with fresh, locally sourced ingredients from livestock and produce gardens. What could provide more comforting and authentic flavors?
Traditional pot pie is a staple meal in Lancaster County — and with fresh ingredients carefully prepared and crafted by hand, the Pennsylvania Dutch variation of this dish can taste even better than other versions. Interested in trying this out for yourself? Check out the tips below for making your very own traditional pot pie.
How Is Pennsylvania Dutch Pot Pie Made?
You might wonder what makes Pennsylvania Dutch pot pie different from other recipes. The Amish have a key ingredient that gives pot pie a distinctive texture and flavor — plump and rich homemade noodles. In fact, these noodles replace the biscuit or pie crust you're likely used to with classic chicken pot pie variations.
While pie crust is delicious — and picking up a refrigerated pie crust is the simpler option — the noodles in Pennsylvania Dutch pot pie add a uniquely savory twist you're sure to love just as much. One bite and you'll likely remember that homemade chicken noodle soup you had growing up.
And, unlike ordinary chicken pot pies — which are usually made in pans — this version actually lives up to the name because it's made in a pot. Plus, the noodle dough is incredibly simple to make and only requires a few ingredients — salt, water, flour and eggs.
While creating this Amish-style dish takes a little more effort than regular pot pies, we guarantee the delicious result is well worth the extra work. Read on for handy tips to whip up your own Pennsylvania Dutch pot pie.
Tips and Instructions for Traditional Pot Pie
It's no surprise that many people enjoy replicating this tasty dish from their own kitchen. For this reason, there are multiple recipes for Pennsylvania Dutch chicken pot pie out there — each one varying in the type of veggies, noodle dough ingredients, etc.
A quick google search will likely bring hundreds of recipes before your eyes. Even so, we've provided one below to give you a general idea of how it's made.
First, here are the ingredients for this Dutch pot pie recipe:
7 cups water
3-4 cups chicken broth
1 tablespoon butter
1 1/2 – 2 cups diced potatoes
1/2 teaspoon salt
1/2 teaspoon black pepper
3/4 teaspoon seasoning salt
1-2 cups chicken, cooked and chopped
1 1/2 – 2 tablespoons flour
Feel free to add these optional ingredients for extra flavor, if desired:
2 tablespoons chopped onion
1 minced garlic clove
1 cup chopped carrots
1 cup green peas
To make the noodle dough, you'll need:
1 teaspoon salt
2 cups flour
1/2 cup water
2 large eggs, beaten
Now, onto the steps for making traditional pot pie!
1. Prep Your Ingredients
A good tip is to gather and prep your chicken and vegetables beforehand. This helps make cooking less of a hassle since you won't have to worry about peeling, chopping and dicing as you go along.
If you don't already have cooked chicken, you'll need to cook and chop some up. Additionally, prepare any vegetables you plan to use — whether they're on this list or you think they sound tasty.
Be sure to wash all of your veggies. Then, peel and chop your carrots, slice your onions, mince your garlic, dice your potatoes and complete any necessary preparations. Set your chicken and veggies aside when finished. Once you have this initial step taken care of, it'll be easier to put everything together later.
2. Make Your Dough
The next step will be creating your dough for the homemade noodles. As mentioned earlier, making Amish-style pot pie noodles is surprisingly easy.
Simply whisk your eggs in a bowl, then add your salt and water. Mix these thoroughly. Lastly, add your flour and continue mixing until it forms a ball. Voilà — your dough is complete! Cover the dough and set it aside.

3. Start Your Broth
Use a large cooking pot to melt your tablespoon of butter. Add in your minced garlic clove, chopped carrots and onion if desired. Saute this mixture over medium heat for one or two minutes. Pour in your chicken broth and water before bringing this mixture to a boil.
4. Form Your Noodles
For another handy tip, you can start to shape your noodles while waiting for the broth to boil. First, sprinkle a thin layer of flour onto a clean kitchen countertop. Grab your dough from the bowl and set it on the flour.
Spread the dough slightly with your hands. Lift it up and sprinkle additional flour underneath and on top of the dough. Then, grab a rolling pin and roll out the dough until it's fairly thin, about 1/8-inch thick. If your dough sticks to the countertop as you roll, lift the edges and sprinkle more flour underneath.
Once you've rolled the dough to your desired thickness, grab a pizza cutter. Slice the dough into about 1 1/2 inch strips in both directions to form square noodle shapes.
You can also purchase hand-rolled pot pie noodles if you want to experience the homemade tastes of traditional pot pie without making noodles yourself!

5. Cook the Noodles
After your broth comes to a full boil, carefully add your noodle squares to the pot. It may take a minute or two to gently get all the noodles in since you don't want to dump them all in at once. If you throw in a clump at once, they'll stick together while cooking. Be sure to separate noodles — you can even use a spoon to push noodles aside as you add new ones.
Let this boil gently for about 15-20 minutes while stirring occasionally. Then, add seasonings, chicken, peas and potatoes — or any other veggies, if desired — to the broth. Continue to boil this mixture for another ten minutes or so. If the noodles are considerably thick, you might need to boil them for a few extra minutes.
6. Create Your Flour and Water Paste
Another good tip when making traditional pot pie is adding a flour and water paste to your noodles. This helps thicken the mixture slightly to enhance the dish's texture.
As your noodles cook, pour your flour into a cup and slowly add a little warm water to form a thin paste. Stir this mixture vigorously with a whisk or fork. If you add too much water without stirring sufficiently, it can form lumps. Only adding a small amount of water followed by immediate stirring can help prevent these lumps.
7. Put It All Together
After your homemade noodles have cooked for about 20 minutes, slowly pour in your flour paste as you stir to help thicken it a bit. Let it boil for another minute or so, and then it should be complete. Remove your pot pie from heat, then let it cool for a few minutes before serving and eating.
And there you have it — traditional Pennsylvania Dutch pot pie made in your kitchen! Whether you're cooking dinner for the family, serving a meal for a party or gathering, or simply enjoying this delicious dish on your own, we hope you enjoy the savory and comforting flavors it brings. After just one taste, you'll likely want to make this meal again and again!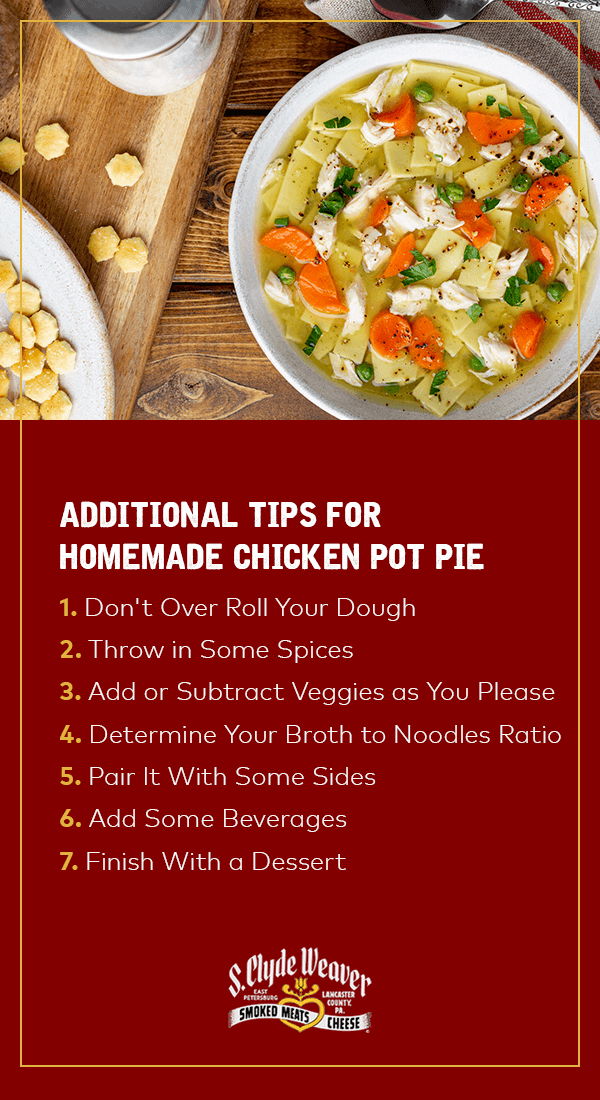 Additional Tips for Homemade Chicken Pot Pie
When making your Pennsylvania Dutch pot pie, below are some extra tips to keep in mind:
1. Don't Over Roll Your Dough
While you'll want to roll your dough fairly thin, try not to over roll it. Paper-thin dough may result in limp, mushy noodles when you go to cook it. On the other hand, you don't want your noodles to be too thick either. As mentioned earlier, about 1/8-inch thick dough should create an ideal texture.
2. Throw in Some Spices
This particular recipe already calls for salt, black pepper and seasoning salt, but you can add additional spices for more flavor if you'd like. Feel free to add a teaspoon of parsley, thyme or other fresh spices if desired.
3. Add or Subtract Veggies as You Please
We mentioned that the pot pie vegetables can vary depending on the recipe. While this one includes potatoes, peas, garlic, onions and carrots, you can add and subtract these veggies as you see fit. You can even throw in additional vegetables if desired, like celery, beans or squash.
4. Determine Your Broth to Noodles Ratio
Another tip to keep in mind is choosing a favorable broth to noodles ratio. If you prefer more broth in your soups, add some extra broth to your pot pie. On the other hand, you can opt for less broth if you'd like more emphasis on the noodles.
6. Pair It With Some Sides
While Amish-style pot pie is delicious on its own, pairing it with some sides or appetizers makes it even better! No meal is complete without sides, especially if you're making dinner for a group.
Here are some ideas for tasty sides to accompany your pot pie:
Homemade biscuits or cornbread
Roasted vegetables
Some easy finger appetizers like cheese balls or stuffed dates
Fruit salad
Corn casserole or green bean casserole
A charcuterie board or antipasto tray with assorted meats, cheeses and vegetables
Mashed potatoes or baked potatoes
7. Add Some Beverages
Along with your sides, you'll want to add refreshing beverage options to wash down your pot pie. Chicken pot pie pairs wonderfully with a buttery chardonnay, viognier or sauvignon blanc if you want to add wine to the menu. White wines tend to round out the soft and savory flavors of chicken. If you'd like to add some beer to the mix, mild poultry flavors generally complement equally mild beers like blonde ale and German lager.
Cold and room temperature drinks aren't the only beverages that pair well with pot pie. A steaming cup of tea, some hot cider or a delicious coffee blend can also complement this dish, especially during the cold winter months.
8. Finish With a Dessert
Finally, complete your pot pie meal with a tasty dessert. If you'd like to continue the Amish-style cuisine theme, try out some Pennsylvania Dutch desserts for warm, rich flavors! If you need ideas, here are some popular desserts in Lancaster County to consider:
Shoofly pie: Shoofly pie resembles coffee cake and is a gooey, molasses-based Pennsylvania Dutch pie with a crumbly topping. It makes for a delicious treat for breakfast or dessert after a meal. Top with whipped cream or serve with some ice cream for even tastier flavors!
Apple dumplings: Sweet and rich apple dumplings are a staple in Lancaster County. This dessert is a dream for pastry lovers — a rich blend of ingredients like cinnamon, nutmeg, brown sugar and farm-fresh apples all packed into a flaky, golden-brown pie crust. It's also perfect for crisp autumn temperatures. Serve your apple dumplings with vanilla ice cream for an irresistible blend of sweet flavors!
Jams, jellies and preservatives: With many fresh garden-grown fruits in the area, Lancaster County is home to a delicious variety of jams and jellies — apple butter, blueberry preservatives, peach jalapeno jam and so many more. These preservatives are delicious to spread over bread and muffins!
Whoopie pies: Looking for a smooth, chocolatey dessert to top off your meal? Whoopie pies are a beloved comfort food in Lancaster County. A sweet, thick layer of cream filling sandwiched between two round layers of moist chocolate cake, this classic Pennsylvania Dutch dessert won't disappoint.
Sticky buns: You can't go wrong adding homemade Amish sticky buns to the dessert menu. Moist bread dough is coated with a sweet layer of sugar, cinnamon and butter, then baked in a pan with sticky bun syrup for an ultra-rich treat.
Sand tart cookies: Another culinary delight in Pennsylvania Dutch Country, sand tarts are delicate golden cookies with a crumbly, buttery texture. Because they're thin, light and airy in nature — not to mention delicious in flavor — you'll likely find it impossible to stop at just one. These treats are especially ideal for holiday parties and gatherings!
Shop Pennsylvania Dutch Favorites Online at S. Clyde Weaver
Now that you've learned some tips for making traditional pot pie, you may be inspired to try out these authentic Pennsylvania Dutch flavors for yourself. At S. Clyde Weaver, we carry a delicious variety of Lancaster favorites — smoked meats and cheeses, fruit preservatives, dressings, coffee roasts and more! Thanks to our fresh, quality ingredients, you can bring the natural flavors of Lancaster County straight to your pantry.
When you order products online at S. Clyde Weaver, you'll experience delicious Pennsylvania Dutch flavors that will delight your inner foodie and leave you craving more. Browse our selection of Lancaster favorites to purchase your sweets, snacks and condiments today!