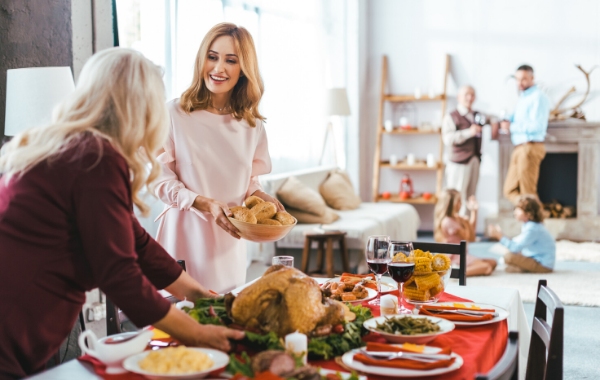 Although not all families celebrate a formal Thanksgiving dinner, many gather together to enjoy the bounty of the harvest and lively conversation. Whether your November celebration requires you to come dressed to impress or not, you should always be ready to make a terrific impression by following Thanksgiving guest etiquette.
Whether you are spending Thanksgiving with people you have known all your life or folks you just met this year, the following hints will help you stand out for all the right reasons. Your host and other Thanksgiving meal companions will appreciate your good taste and thoughtful behaviors.
What to Do Before the Thanksgiving Meal
In preparation for your Thanksgiving adventure, take time to think about the experience. A good host will usually provide you with some kind of idea of what you should bring and the best time to arrive. Be sure to ask questions if you become unsure of the dress expectations or your food contributions.
For instance, if you are asked to bring a side dish, inquire about food allergies or the dietary restrictions of other guests, as well as appropriate amounts of food to bring.
You will also want to consider bringing a special gift for your host. A flower arrangement along with assorted treats and goodies allows you to show your appreciation in a welcome, fun way.
Not sure where to find terrific, unparalleled snacks, meats and other fresh finds? Just browse the S. Clyde Weaver online store for ideas and be sure to place your order in advance of the Thanksgiving meal. That way, you will never arrive empty-handed.
How to 'Wow' During the Thanksgiving Feast
Above all else, the most conscientious Thanksgiving guests must focus on being polite throughout Thanksgiving. This can be a challenge, especially if others at the table begin discussing potentially controversial topics such as politics. Generally speaking, guests should stay away from subject matter that can lead to arguments or debate. Thanksgiving should be considered a time to celebrate togetherness, not drive a wedge between people.
In addition to keeping the banter on the lighter side, pay attention to your Thanksgiving table manners. Not sure how to properly use a salad fork or when to put your napkin on the table? A quick search online can help you brush up on your table manner skills. It never hurts to know exactly how to eat a roll or pass food around family-style.
Even if others do not follow the rules, you can stand out as someone who takes manners seriously.
Little Things Matter When Thanksgiving Dinner Ends
Has everyone eaten their fill? Your role as a guest is far from over!
Show your host that you appreciate being asked to the feast by offering to clean up. Be aware that some hosts may decline help. Be a little persistent, and at least say you want to clear the table and bring plates, utensils, glasses and serving bowls to the kitchen. Considerate Thanksgiving guests never sit down without first lending a helping hand! Afterward, send a handwritten thank-you note to add the perfect finale to your excellent guest etiquette.
Thanksgiving will be upon us faster than you can say, "Cornucopia!" Be ready for the feast by picking up some treats online or at one of our S. Clyde Weaver locations.