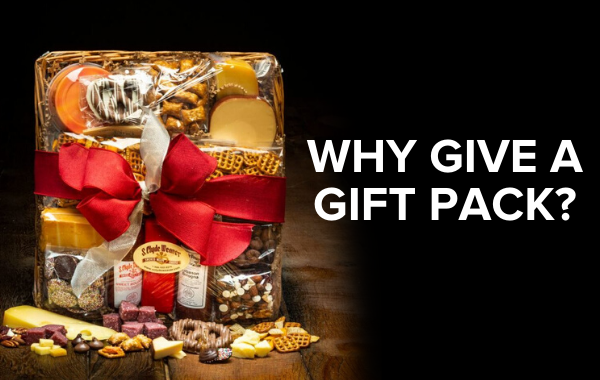 Your coworker helped you tackle a huge project that ended in success. Your neighbor fed and cuddled your cats so you could enjoy a weekend seaside retreat. Your clients have consistently given you rewarding projects and lucrative referrals.
How do you say "thank you" in a meaningful way? The answer is with a gift pack.
Many people automatically order gift packs during the busy year-end holiday season because they make affordable and delicious surprises. Plus, they can be sent easily to all employees or customers, making gifting a breeze.
However, gift packs can be perfect any time because they offer universal appeal. After all, everyone has to eat sooner or later. The right gift pack allows them to nibble to their heart's content!
If you are new to the idea of sending gift packs to people on your gifting list, consider the following reasons to adopt a gift pack-first mentality.
Shop Our Gift Baskets
You Can Send a Taste of Home to a Distant Friend or Loved One
When your friend or family member cannot make it home, send home to them instead in the form of flavorful, fresh treats! That way, they can allow their tastebuds to take a walk down memory lane.
Do you know someone who grew up in Lancaster County but now lives halfway around the country? Remind them of their PA Dutch heritage by having a gift pack from S. Clyde Weaver delivered to make their day! Our gift packs run the gamut from meats and cheeses to pretzels and sweet treats.
You Can Make a Splash With Just About Anyone
It feels strange when you have people on your gift or thank-you list that you only know a little. Yet, you know that they probably like to eat, which means a gift pack could be the ideal giving solution.
Gift packs take the pressure off you to find out about your recipient's personality. All you need is their address to send a smile in the form of snacks and nibbles that they can dive into right away.
You Can Stay Within Your Gifting Budget
Their innate affordability and convenience make gift packs economical selections when you have a lot of people on your giving list. For instance, many companies send gift packs to their workforce or key customers. At S. Clyde Weaver, many of our gift packs can be customized to meet budgetary guidelines. Just call (717) 569-0812 to talk about options.
If you consistently go overboard with your spending, gift packs can help you stay on track while still offering a present that looks and tastes incredible. In fact, the majority of our gift packs come adorned with ribbons, meaning you never need to worry about presentation.
You Can Match a Gift Pack to a Personality
Does your babysitter always bring a bag of snacks to enjoy and share? A gift pack like our Goody Sampler can brighten her day or holiday season. Is your grandfather a meat and cheese man? Discover The Ultimate Gift Pack, just bursting with everything from locally sourced super-sharp cheddar to authentic south-central PA Lebanon bologna.
Basically, you can know a little about a person and almost always find a suitable gift pack. Not only does this make gifting less stressful, but it also adds the fun factor!
Order a Gift Basket or Pack for the Holiday Season and Other Occasions
From Christmas and Easter to birthdays and anniversaries, gift baskets and packs can be your go-to choices. Plus, they make terrific hostess gifts! Order some treats for your friends and family — or yourself! — today from S. Clyde Weaver. We make giving tasty!