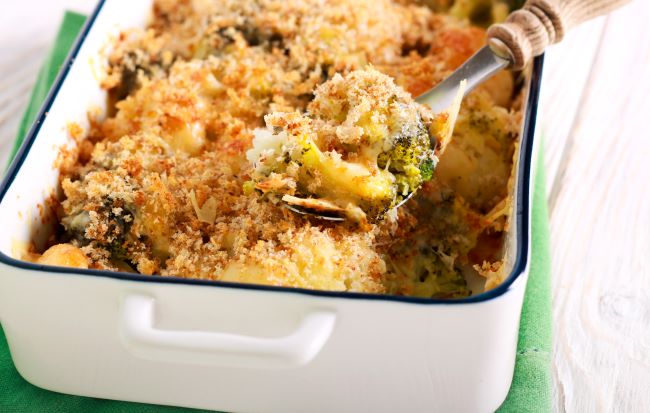 ingredients
1 Small Head of Broccoli
1 Small Head of Cauliflower
8 oz. S. Clyde Weaver Garlic & Chive Cheese – Lancaster County Cheddar
4 oz. S. Clyde Weaver Bacon
1/4 Cup Shredded Parmigiano-Reggiano Cheese
3 oz. Cream Cheese
1/4 Cup Panko Bread Crumbs
4 Tablespoons Butter
2 Tablespoons all-purpose flour
1 Cup of Milk
Salt and pepper to taste
directions
Preheat oven to 375 degrees F.

Bring a pot of water to boil. Be sure to add salt. Cut up your broccoli and cauliflower and cook for 5-6 minutes or until tender. Remove from pan and drain well. At the same time cook the bacon, drain and crumble into small pieces.

In a saucepan, melt 2 tablespoons butter. Add in flour, stirring until smooth. Add milk whisking constantly over medium heat until thick and bubbly. Stir in cream cheese until smooth. Add in the garlic and chive cheese and bacon. Toss with the broccoli and cauliflower. Salt and pepper to taste. Pour mixture into a 9 x 9 baking dish.

Combine the panko bread crumbs, Parmigiano-Reggiano cheese and 2 tablespoons of melted butter. Top your dish with the mixture and bake for 20-25 minutes and enjoy!