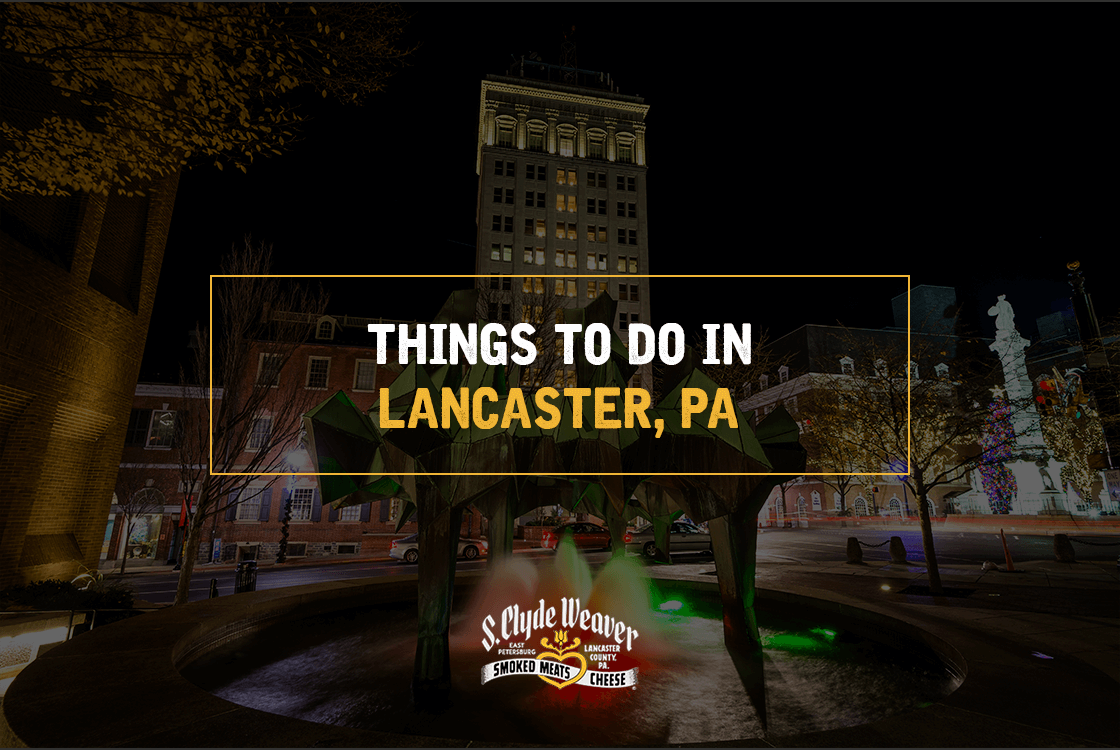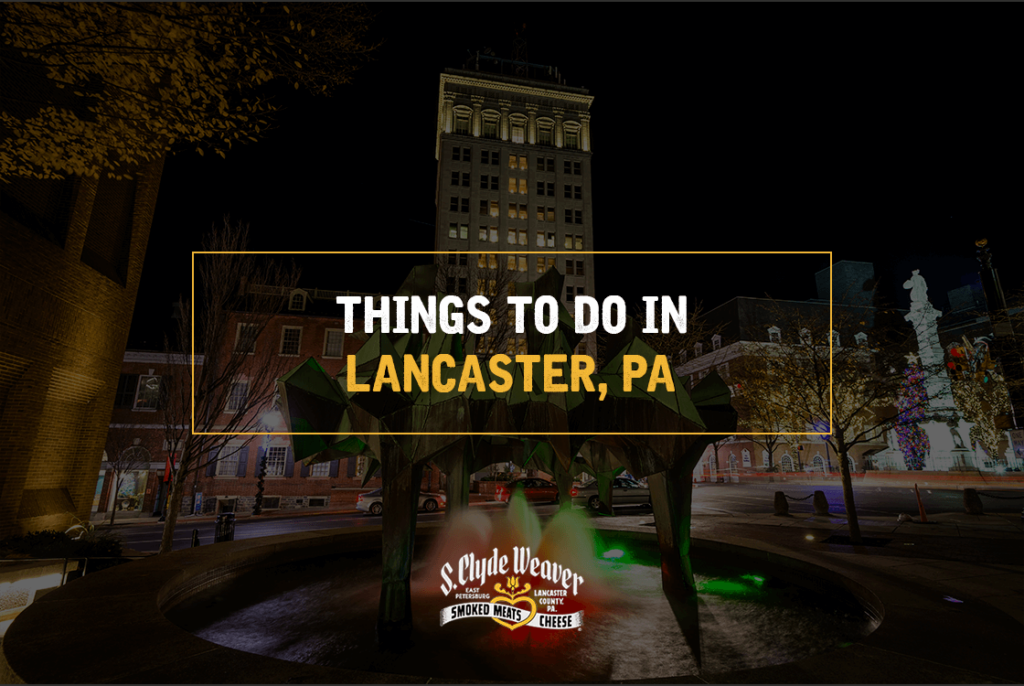 Are you planning a trip to Lancaster County? Do you need help figuring out where to go and what to do during your visit? As PA natives, we've got your back.
To help you out, we've rounded up some of the top attractions to visit in Lancaster for travelers — and locals — of all ages.
Historical Sites and Museums
One of the country's oldest inland cities, Lancaster was formally founded in May of 1729. That's nearly 300 years of history to explore! Learn all about the county's most important places and people by visiting some of these fascinating sites.
Railroad Museum of Pennsylvania
All aboard! Step into the Railroad Museum to learn all about the history of railroading in the Commonwealth of Pennsylvania. Typically, people will spend about 90 minutes in the Museum — but with more than 100 locomotives and railroad cars on display, you might need some more time to see everything.

The Railroad Museum is located at 300 Gap Road on PA Route 741 in Strasburg. The museum is open Monday to Saturday from 10 a.m. to 4 p.m. and Sunday from 12 p.m. to 4 p.m. Visit the museum's website for admission and directions.
After your visit, stop by the Strasburg Creamery on Main St for a fresh-made waffle cone!
Landis Valley Village & Farm Museum
This museum is dedicated to preserving and interpreting Pennsylvania Dutch history and culture from generation to generation. With the largest PA Dutch artifact collection in the country and a rotation of award-winning exhibits, seeing everything in this museum could take you several days.
The village is located at 2451 Kissel Hill Road in Lancaster and is open Thursday through Saturday from 9 a.m. to 4 p.m. and Sunday from noon to 4 p.m. Visit the museum's website or call 717-569-0401 for more information.
Julius Sturgis Pretzel Bakery
Ever wondered how pretzels get their unique shape? You can learn how to do it yourself at the Julius Sturgis Pretzel Bakery in Lititz.
You can take a tour of the original 19th-century bakery and watch real pretzel makers at work. Once you're done, visit the museum shop to pick up some salty goodies for the trip home.
The bakery is located at 219 E Main Street. Tours are by appointment only, so make sure to book in advance!
Amish and Mennonite Experiences
The Amish and Mennonites are some of Central PA's most well-known residents. These two religious groups have had a massive impact on the area's culture and history.
Dutch priest Menno Simons founded the Mennonite denomination during the Protestant Reformation of the 16th century, when many new denominations broke off from the Catholic Church. Although the Mennonite Church has followers around the world, they're most heavily concentrated in Canada and the U.S. You'll find many Old Order Mennonites in Lancaster County, characterized by their more traditional plain dress.
The Amish faith arose from the Mennonite denomination in the 17th century. Swiss religious leader Jakob Ammann was concerned that the church was becoming too worldly, which led to a schism within the church. His followers, the Amish, were forced to leave Europe and settle in the U.S. — more specifically, in central Pennsylvania.
While you're in the area, take some time to learn more about these communities, their faith and their way of life.
The Mennonite Life Visitors Center
Those interested in religious history and culture will enjoy exploring the Mennonite Visitors Center. You can watch a free documentary about the denomination's history and beliefs or walk through the Mennonite Life Museum for an additional fee.
If you've got an extra hour to spare, the Center is also home to a full-scale replica of Moses' Biblical Tabernacle. Enjoy an informative multimedia presentation that will take you through the Hebrews' journey through the scriptures.
Rather be out on the roads? Take a two-hour driving tour of Lancaster County with a Mennonite tour guide. To book a guided tour, call the Center at 717-299-0954.
The Visitors Center is located at 2215 Millstream Road in Lancaster. For more information, visit their website.
The Amish Village
The Amish Village provides an authentic glimpse into the Amish way of life. This 12-acre village provides a realistic representation of how today's Lancaster Amish community lives and works. While you're there, you'll be able to walk through a real 19th-century farmhouse, take a bus tour of the country roads and get up close and personal with farm animals.

Make sure to pick up some authentic Amish baked goods, like whoopie pies, shoofly pie and homemade bread before you leave. There's nothing quite like real Amish baking.
You can find the Amish Village at 199 Hartman Bridge Road in Ronks. For information on admission, tours and directions, visit the Village's website or call 717-687-8511.
Farmers Markets
From delicious smoked meats and aged cheeses to handcrafted Amish furniture, you'll find souvenirs and treats for everyone on your list at Lancaster's bustling farmer's markets. Plus, your purchases will support local agriculture — that's a win-win in our book.
Here are a few of our favorite farmer's markets in Lancaster County:
Lancaster Central Market: Established in 1730, Lancaster Central Market is the country's oldest continuously operating farmers market. It's located in the heart of the city at 23 North Market Street and is open Tuesday, Friday and Saturday from 6 a.m. to 3 p.m.
Bird-in-Hand Farmers Market: A family business for over 30 years, the Bird-in-Hand Farmers Market offers fresh produce, bulk foods, hot lunches and more. The market is located at 2710 Old Philadelphia Pike in Bird-in-Hand. Check the website for seasonal hours.
Root's Country Market & Auction: As Lancaster's oldest family-run farmers market, Root's is a county tradition. The market is located at 705 Graystone Road in Manheim, directly across the street from the Old Mill Flea Market. Check the website for seasonal hours.
You'll also see roadside stands as you drive through the countryside. If you see something that piques your interest, we encourage you to stop by for fresh food and friendly conversation.
Outdoor Activities
Central Pennsylvania offers wide open spaces and plenty of greenery for nature lovers to enjoy. Here are some of the best outdoor activities in Lancaster County.
Lancaster Balloon Rides
Are you in for a thrill? Why not take a hot air balloon ride? See the county from a bird's-eye perspective as you drift over the countryside with your tour group, or book a private tour for a truly special experience. Whichever option you choose, you'll be in the air for about two to three hours, so plan accordingly!

The Lancaster launch site is located at 2727 Old Philadelphia Pike in Bird-in-Hand. Book in advance through their website, or call 717-276-9328 for more information.
Wolf Sanctuary of PA
Delight the animal lovers in your group with a tour through the Wolf Sanctuary of PA. For decades, this non-profit organization has provided the utmost care to its resident gray wolves and wolf-dogs. Now, the Sanctuary strives to educate the public about the species and combat misinformation.
The Wolf Sanctuary is located at 465 Speedwell Forge Road in Lititz. Reserve a tour through the Sanctuary's website, or call 717-626-4617 for more information.
Hiking and Biking Trails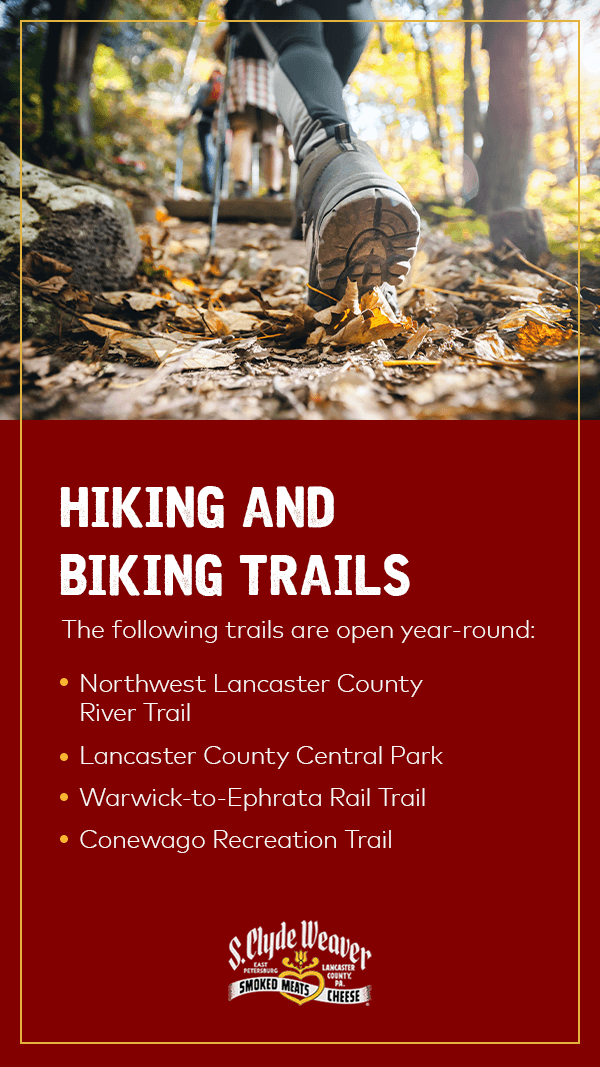 One of the best free things to do in Lancaster is to marvel at the natural landscape on one of the local trails.
The following trails are open year-round:
Northwest Lancaster County River Trail: Ride your bike, take a long walk or go for a jog on this 11-mile trail connecting the nearby towns of Columbia and Bainbridge. Snowshoeing and skiing are also allowed in winter.
Lancaster County Central Park: In addition to a swimming pool, skate park and even an environmental library, this park features more than 13 miles of multi-use trails to explore.
Warwick-to-Ephrata Rail Trail: If you want to explore multiple places in one day, this eight-mile trail is for you. Walk through the downtowns of Lititz, Akron and Ephrata and see the best of what Lancaster County has to offer.
Conewago Recreation Trail: This five-mile trail connects with the Lebanon Valley Rail Trail to create a 19-mile network for hiking, cycling, running and riding. If you want to make a day of it, start at the Elizabethtown entrance on Colebrook Road and hike to Mt. Gretna for a sweet treat at the Jigger Shop Ice Cream Parlor!
While you're out, you're likely to see some of the local wildlife along the trails. Bring a camera along to make the most of your time!
Arts and Culture
From fine art galleries to exciting theatrical productions, Lancaster county is full of exhibitions and opportunities to support local artists. You'll also find lots of sculptures and public art installations sprinkled throughout the city, especially around the Pennsylvania College of Art and Design in center city.

Demuth Foundation and Lancaster Museum of Art
Operating out of Charles Demuth's former home and studio on King Street, the Demuth Foundation and Museum features a rotating collection of the precisionist artist's works.
Want to see more? The Foundation also includes the Lancaster Museum of Art, which features more than 400 pieces in its permanent collection.
The Demuth Foundation is located at 120 East King Street, and the Lancaster Museum of Art is located at 135 North Lime Street. Visit the foundation's website for more information about museum hours, exhibitions and directions.
The Fulton Theatre
If you're in search of things to do in Lancaster, PA at night, why not enjoy a show at the Fulton Theatre? Located in downtown Lancaster, the Fulton Theatre brings big-name shows to Central PA.
Groups of 10 or more people can book a tour of the theatre to learn about the building's history and how its shows come together. During the summer, smaller groups and individuals can join these tours on Fridays during the noon slot.
The Fulton Theatre is located at 12 N Prince Street. Visit the Theatre's website to see who's coming to the stage, or call the box office at 717-397-7425 with any questions.
Gallery Row
While you're downtown, take some time to stroll through the many fine art galleries on Prince Street, also known as Gallery Row.
Many galleries and nearby shops extend their hours on the first Friday of every month. To see which businesses will be open late for First Fridays, visit the First Friday web page.

Sight & Sound's Millennium Theatre
Since 1987, Sight & Sound Theatres has produced state-of-the-art multimedia theatrical interpretations of classic Bible stories. Its panoramic stage enables them to incorporate epic effects on a massive scale, providing a sensory experience you won't want to miss.
Sight & Sound's Millennium Theatre is located at 300 Hartman Bridge Road in Ronks. Visit the theatre's website to see what's playing, or call the box office at 800-377-1277 for more ticketing information.
For the Whole Family
Lancaster County has plenty of kid-friendly activities and attractions. From kids' museums to farm experiences, you can find something to suit everyone in your family.
Dutch Wonderland
With more than 35 rides and attractions, this fantasy-themed amusement park is fun for families of all ages. Spend your day riding kid-friendly rides, playing in Duke's Lagoon and watching cast performances at the park's various stages.
Need a quiet place to catch a break between rides? You can rent a private cabana for a shady home base to rest and rejuvenate before getting back on the walking path.
Dutch Wonderland is located at 2249 Lincoln Highway East in Lancaster. Visit the park's website to purchase tickets and get driving directions. Be sure to get your tickets in advance for the best rates.
Cherry Crest Adventure Farm
Get outside and enjoy some farm-fresh family fun at Cherry Crest Adventure Farm. With 25 acres of attractions including a top-rated corn maze, baby chick hatchery and even singing chickens, Cherry Crest is a great place to learn about farm life and get active.

Plus, when lunchtime rolls around and bellies are rumbling, the farm has on-site food stands for every palate. From pulled pork sandwiches to fresh-squeezed lemonade, you'll find something to please everyone in your group.
Cherry Crest is located at 150 Cherry Hill Rd in Ronks. Visit the farm's website for more information about hours and events.
Hands-On House Children's Museum
While most museums make you keep a safe distance from the exhibits, Hands-On House is a little different. This educational museum encourages all visitors to touch and play with everything — yes, everything! From the fun-sized farmers market to a miniature STEM lab, your kids will have a blast learning about how the world works.
Typical visits to the museum last about an hour to 90 minutes. Admission is good for the whole day, though, so you can leave for lunch and pick up where you left off for the rest of the afternoon.
Hands-On House is located at 721 Landis Valley Road and is open daily. Visit the museum's website for hours and more information, and be sure to book your visit in advance to guarantee admission!
Where to Eat
After all that exploring, you're probably famished. Fortunately, Lancaster is full of restaurants, cafes and food stands. Try some of the following eateries for an authentic taste of Lancaster County.
S. Clyde Weaver Retail Store & Cafe
S. Clyde Weaver is one of the most experienced food retailers in Lancaster County. Stop by one of our retail locations to pick up some mouth-watering smoked meats and cheeses, and grab a bite to eat at our in-store cafes. Our products are also available at many local farmers markets, including Lancaster Central Market.
You can find us at 5253 Main Street in East Petersburg and 1509 Lititz Pike in Lititz. Both locations are open Monday to Saturday from 9 a.m. to 5 p.m., with the cafe closing at 3 p.m.
Lancaster Brewing Company
What could be better than a pint of locally brewed beer? With unique brews and an equally creative food menu, the Lancaster Brewing Company is a must-visit for any libations.

LBC has two Lancaster locations:
The brewery at 302 North Plum Street
The Taproom at 2323 Lincoln Highway East
For operating hours and menu information, visit the brewery's website. The restaurant also offers takeout, in case you'd like to bring your dinner back to your hotel room.
The Speckled Hen
This Strasburg coffee shop and restaurant specializes in artisan food and craft coffee beverages. Featuring high-quality, locally sourced ingredients and a clean yet rustic atmosphere, the Hen is a relaxing spot for breakfast, lunch or Sunday brunch.
The Speckled Hen is located at 141 E Main St in Strasburg. Visit the restaurant's website for seasonal menus and operating hours.
Bird-in-Hand Family Restaurant & Smorgasbord
Grab a plate and fill it up with traditional Pennsylvania Dutch comfort food at Bird-in-Hand Family Restaurant & Smorgasbord. The restaurant offers buffet-style dining, table service and takeout, so there's options for everyone.
Additionally, their scratch kitchen uses organic ingredients sourced from local farms to make all their dishes. Be sure to save room for dessert — you've got to try their artisan ice cream.
The restaurant is located at 2760 Old Philadelphia Pike in Bird-in-Hand, near Dutch Wonderland and Sight & Sound. Visit their website for more information.
Where to Stay
If you're visiting from out of town, you'll need somewhere to sleep for the night. Here are some of the most distinctive lodging options in the area.
The Inn at Leola Village
With a four-star boutique spa, two in-house eateries and irresistibly cozy decor, this rustic resort provides a luxurious blend of old and new. Stay in one of their traditional guest rooms, or enjoy a more secluded retreat in their full-service Amish-style suites.
The Inn is located at 38 Deborah Drive in Leola. Visit their website for more information about booking and special packages.
The Fulton Steamboat Inn
If you're looking for a more unique experience, the Fulton Steamboat Inn is the place for you. Themed after 19th-century steamboats, the hotel offers full-service accommodations including a heated indoor pool, complimentary Wi-Fi and an "on-deck" restaurant and tavern.
The hotel is located at 1 Hartman Bridge Road in Lancaster, just a few minutes away from the Strasburg Railroad and Dutch Wonderland. Check their website for booking information.
The Cartoon Network Hotel
Need somewhere to stay with your kids? With fun activities, a 24-7 arcade and two toon-themed eateries, this whimsical hotel has something for everyone in the family.
The Cartoon Network Hotel is located at 2285 Lincoln Highway East, right next to Dutch Wonderland. Visit the hotel's website for accommodations and booking information.
Get a Taste of Lancaster County With S. Clyde Weaver's Smoked Meats and Cheeses
We hope these ideas made planning for your time in Lancaster County a little easier. At Weaver's, we strive to bring old-school home cooking to you wherever you are. We specialize in smoked meats, specialty cheeses, PA Dutch baked goods and more — all made in-house and held to the highest standard.
While you're in the area, take the opportunity to taste some of our products at one of our farmers markets. You can order your favorites online to have a little piece of Lancaster County delivered right to your door. Have a great trip!