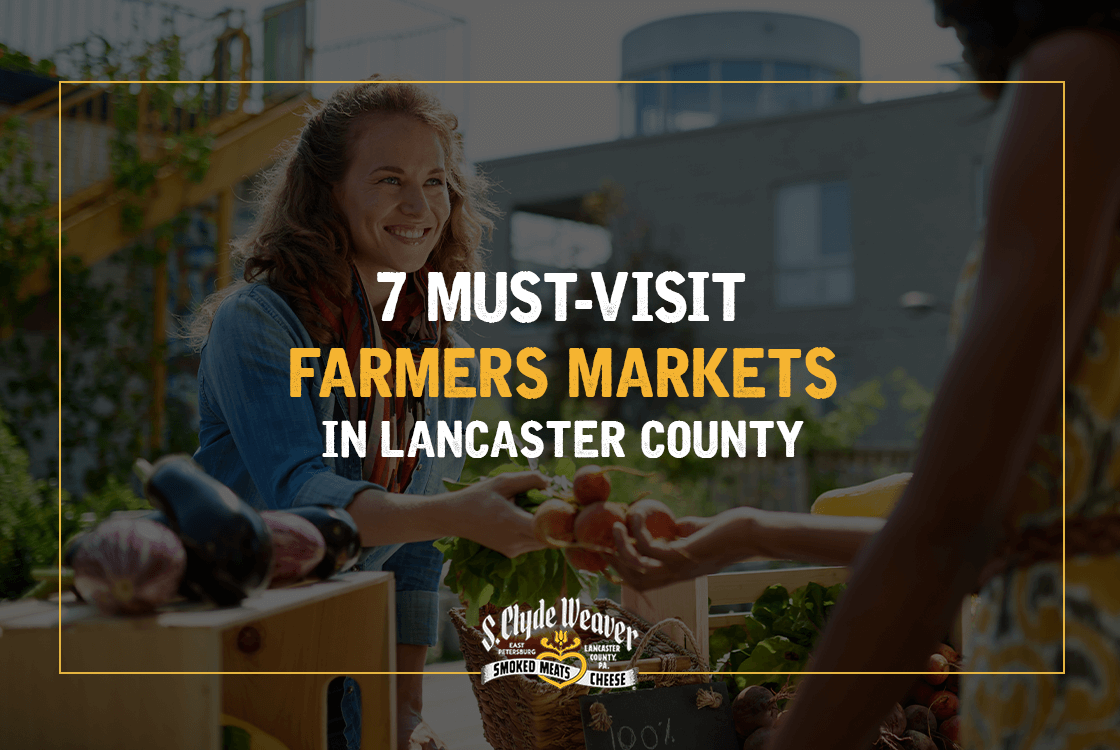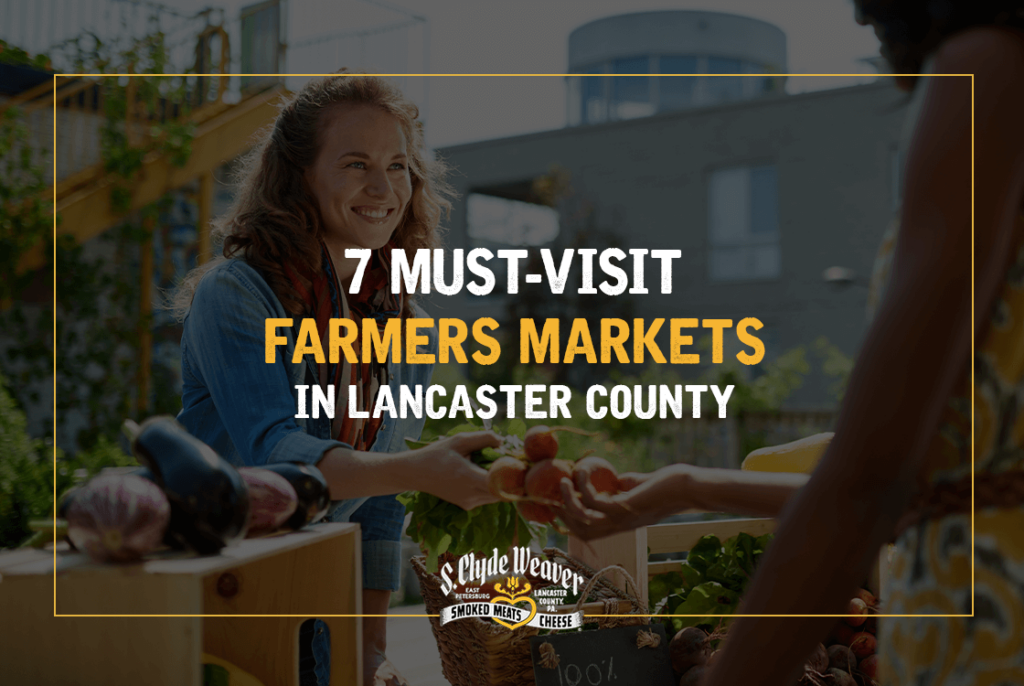 When you think of Lancaster County, you probably think of rolling farmlands, Amish quilts and Pennsylvania Dutch food. That's what we think of, too!
Lancaster is full of productive and non-irrigated farming, and it's the heart of Pennsylvania agriculture. Almost all of the county's farms are family-owned businesses that have been in operation for several generations, so they have deep ties to the region and their products. As a result, Central PA's farmers markets are living monuments to the county's long history.
Whether you're looking for a way to support your local farmers or you're just visiting the area, Lancaster County has something for you. This is your guide to the best farmers and Amish markets in Lancaster, PA.
Best Farmers Markets in Lancaster, PA
Lancaster County is full of fun things to do — and shopping at a farmers market is one of our favorites. Here are some markets you've got to visit at least once.

1. Lancaster Central Market
Lancaster Central Market is among the oldest continuously operating farmers markets in the entire United States. Its history dates back to 1730 when farmers would gather on the Hamilton Estate to sell their harvests.
With more than 60 vendors onsite, you can easily spend your whole morning exploring the market. Grab a hot breakfast and enjoy a long stroll through the market's gorgeous 19th-century brick building.
Want to visit? Here's what you need to know:
Location: 23 N Market Street, Lancaster, PA 17603
Hours: Tuesday, Friday and Saturday from 6 a.m. to 3 p.m.
Where to park: The nearest parking garages are Prince Street Garage and Steinman Park Garage. You can also park on the street if you find an available spot.
If you're looking for some old-fashioned smoked meats and cheeses, you can find us at stand 34!
2. Cherry Hill Orchards and Farm Market

Since 1970, Cherry Hill has been a destination for family fun and excellent produce. Visit the orchards in the summer and early fall for pick-your-own fruit, and stop by the farm stand for fresh vegetables, canned goods, homemade sweets, garden decorations and more.
Here's the important visitor information:
Location: 400 Long Lane, Lancaster, PA 17603
Hours: The market is open Monday to Saturday from 8 a.m. to 6 p.m. Visit the website for information on pick-your-own season and updates.
Market tip: Be sure to check what's in season before your visit if you want to pick your own produce.
For information on seasonal events and offerings, visit Cherry Hill's Facebook page.
3. Root's Country Market & Auction
Pronounced like "Rutz," Root's Country Market & Auction has been family owned and operated for more than 50 years. Many of their standholders have been selling there for multiple generations.
With multiple buildings and more than 200 vendors to explore, Root's is one of the biggest markets in the county. Whether you're grocery shopping, antiquing or just passing through, it's definitely worth a trip.
Here's how to get there:
Location: 705 Graystone Rd, Manheim, PA 17545
Hours: Tuesdays from 9 a.m. to 9 p.m. in April to October. From November to March, the market closes at 8 p.m. The market is open rain or shine in all seasons.
Market tip: Check out the Old Mill Flea Market across the street for vintage treasures.
Check the market's website for information on vendors, events and more. We're one of those vendors — come find us at stand 24!
4. Bird-in-Hand Farmers Market

The Bird-in-Hand Farmers Market is a popular place — and for good reason! Family-owned and operated for more than three decades, this indoor market is home to a wide variety of local vendors.
From fresh meats and cheeses to coffee and spices, Bird-in-Hand has something for everyone. Tourists can stop by for a hot Pennsylvania Dutch-style lunch and find the perfect Lancaster souvenir, while locals can shop for their weekly groceries.
If you'll be in Bird-in-Hand, we'd love to see you at the market. Here's how to get there:
Location: 2710 Old Philadelphia Pike, Bird In Hand, PA 17505
Hours: Fridays and Saturdays from 9 a.m. to 5:30 p.m. See the market's website for seasonal weekday hours.
Where to park: Park for free right outside the market.
Visit the market's official Facebook page for important news and updates.
5. Lapp's Farm Market
This family-owned and operated farmers market offers some of the freshest field-to-table produce around. Market season runs from May through the Christmas season. Produce is available from spring to fall, and you can visit in December for handmade decorations, wreaths and fresh-cut Christmas trees.
Here's what you'll need to know before your visit:
Location: 1406 Lampeter Rd, Lancaster, PA 17602
Hours: Monday to Friday from 8 a.m. to 5:30 p.m. and Saturday from 8 a.m. to 5 p.m.
Lapp's does close down in the event of inclement weather, so check the Facebook page for updates before your visit!
6. Lititz Farmers Market

This seasonal outdoor market takes place rain or shine in Lititz Springs Park. You'll find all sorts of great stuff there, from homemade granola to fermented vegetables.
The market also hosts live music, cooking demonstrations and children's activities, so be sure to check the market's Facebook page for news and upcoming events.
Here's what you need to know:
Location: 24 N Broad Street, Lititz, PA 17543
Hours: Thursday from 4 p.m. to 8 p.m. from mid-May to mid-October. Note that the market closes at 7:30 p.m. after Labor Day.
Where to park: Lititz offers metered street parking as well as several parking lots.
Something's always happening in downtown Lititz. While you're in town, take some time to explore the nearby shops and restaurants.
7. The Green Dragon Market & Auction
The Green Dragon has been one of Lancaster County's favorite Amish farmers markets for more than 80 years.
With more than 100 local vendors and 60 acres to explore, The Green Dragon is one of the biggest markets on the entire East Coast. You'll find all sorts of produce as well as handmade Amish quilts, antique furniture and delicious baked goods.
Here's what you need to know before you visit:
Location: 955 N State Street, Ephrata, PA 17522
Hours: Every Friday year-round from 8 a.m. to 8 p.m.
Where to park: You'll find a spacious parking lot near the market.
Market tip: The Green Dragon is a popular destination, so be sure to go early to beat the crowds!
Visit The Green Dragon's website for vendor and auction information.
8. Columbia Market House
Located in the center of downtown Columbia, the beautiful Columbia Market House building is home to one of the oldest farmers markets in the state, offering fresh produce from local farmers as well as several restaurants.
Although the market closed down in 2017 due to declining business, it reopened in 2021 with support from the borough of Columbia and CHI St. Joseph Children's Health.
Here's what you need to know before visiting:
Location: 15 S Third Street, Columbia, PA 17512
Hours: Every Saturday from 7 a.m. to 3 p.m.
Where to park: There are two parking lots available to customers — a metered lot next to the market building and a free public lot on nearby Locust Street. You can also use metered parking spots on the street if needed.
The Market House is also home to a former prison known as the "Dungeon," making the building an especially spooky stop on the Columbia's Haunted Lantern Tour. Visit around Halloween for the full experience!
9. Masonic Village Farm Market
The Masonic Village is a beautiful pick-your-own orchard and farm market in the little town of Elizabethtown. With over a century in the business, the orchard has become a beloved spot with locals.

Here's what you need to know:
Location: 310 Eden View Road, Elizabethtown, PA 17022
Hours: See the market's website for seasonal hours and pick-your-own information.
Market tip: Don't forget to stop by the Orchard View Café for a sweet treat before you leave! We highly recommend the hand-dipped ice cream.
If you've got some extra time, take a few hours to browse the shops of E-Town's main streets before your visit. You can grab a cup of coffee at Folklore, the town's independent coffee shop, or check out some of the local boutiques and consignment shops.
10. Eldora Farm Market

Located in the quaintly named village of Peach Bottom, Eldora Farm Market is a great place to find fresh produce in Southern Lancaster County. The market, which was originally a roadside stand named Corner Stand Produce, is now located in an all-new building, which has expanded space for products like canned foods and baked goods.
If you want to check it out, here's what you need to know:
Location: 1920 Lancaster Pike, Peach Bottom, PA 17563
Hours: Monday to Friday from 8 a.m. to 8 p.m. and Saturday from 8 a.m. to 6:30 p.m.
Market tip: Stop by on Saturday for the chicken barbecue, and get there early — they sell out quick!
Be sure to visit in the autumn for fresh pumpkins and seasonal fun, and check the market's Facebook page before your visit for updates and events.
Farmers Market Shopping Tips
For those new to shopping at farmers markets, the experience can sometimes be overwhelming. But it doesn't have to be. Take a deep breath, and make the most of your visit with these shopping tips.

Go at the Right Time
Most farmers markets open early in the morning. Getting there early ensures you'll find the best selection and beat the crowds.
If you go in the middle of the day, you'll be right in the hustle and bustle of the market. This is the best time of the day to grab some lunch and enjoy events like live entertainment. However, popular items may sell out by midday.
You might also find great deals if you go later in the day. Some markets allow end-of-day discounts, where vendors will cut prices for the last hour before closing. That said, some markets have rules against this practice — you'll know if you can get those deals while you're at the market.
Know What's in Season
Research what produce is in season when you visit so you can make a shopping list. Here are some seasonal crops:
Spring: Fill your bags with asparagus, peas, rhubarb, and fresh greens like Swiss chard and spinach. Maple syrup tapping season is also in full swing, so be sure to pick up a bottle or two.
Summer: Mid- to late summer is the time for juicy fruits like cherries, blackberries, blueberries, watermelon, peaches and strawberries. For veggies, you'll find green beans, cucumbers, tomatoes, corn, bell peppers and more.
Fall: Look for fresh apples, pumpkin, sweet potato, cauliflower, celery and turnips. Locally grown mushrooms are excellent for autumn dinners.
Winter: Winter squash, broccoli, citrus fruits, cabbage, and cruciferous vegetables like kale and Brussels sprouts.
You can also find many canned goods year-round, like applesauce, preserved fruits and fruit and nut butters.
Come Prepared
Make the most of your trip by making a few advance preparations.
It's also a good idea to bring a few sturdy reusable shopping bags with you. While many vendors have plastic or paper bags on hand, you'll need something a little more durable to safely bring your haul from the market to your car. For those who regularly shop at farmers markets, a rolling shopping cart can make the trip even smoother.
Bring Cash
Although some stands accept card and digital payments, most vendors are cash-only. This is especially true of Amish farmers, who avoid using electronic devices as part of their religious practice.
While some markets have ATMs onsite in case you forget, note that you will likely need to pay a fee to use them. Make sure you have small change on hand before you go for the smoothest shopping experience.
Talk to the Vendors
The nice thing about shopping at farmers markets is that you get to meet the people who produce what they sell. If you're a local and you're planning to come back, engage with the farmers you buy from. Making connections with vendors is a great way to engage with your community and learn more about your food.
You can ask vendors for more information on how they produce their goods. If you see something unfamiliar that catches your eye, the vendor can tell you what it is as well as give you some helpful tips for how to prepare it. Some may even let you take a sample so you can try it before you buy.
Bottom line — if you have any questions, ask away! Farmers will be happy to give you some answers.
Take a Lap
With all the smells, sights and sounds, farmers markets can be incredibly busy. It can be easy to miss great deals if you just buy from the first ones you see. When you first get to the market, take some time to walk around the whole market and see what's available before you make any purchases. Take note of all the vendors that catch your eye so you can compare prices and quality.
And if you're feeling hungry, you can grab a portable snack from food vendors to take with you as you explore. We recommend homemade sticky buns for those with a sweet tooth, and pretzels for something a little savory.
What to Buy at Farmers Markets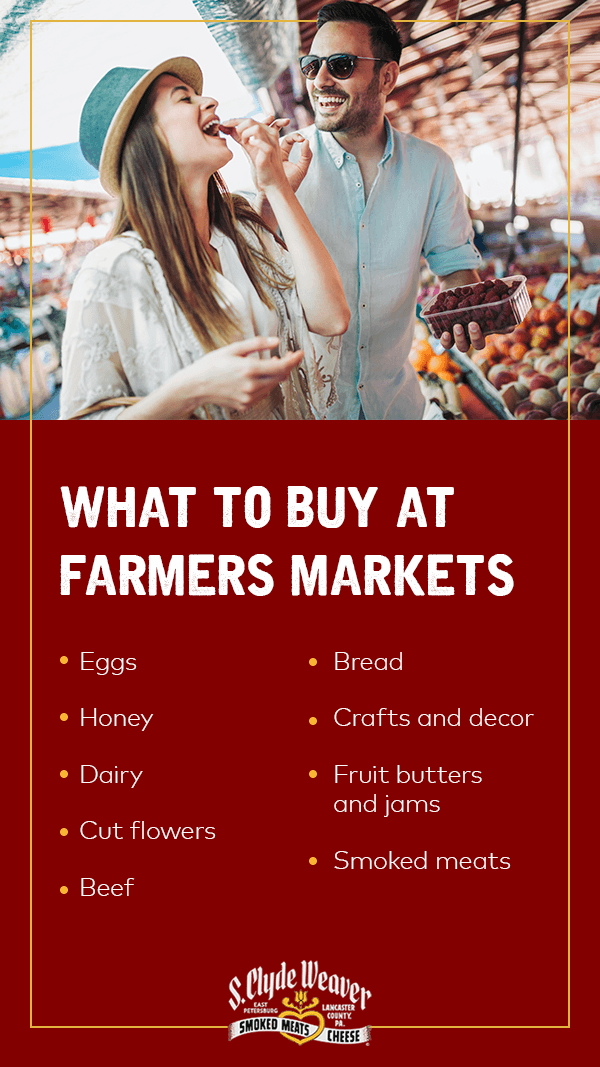 One of the biggest benefits of shopping at farmers markets is that you can talk to the vendors and learn how they produce their goods. This kind of transparency helps you find the right products for your diet and lifestyle.
Fresh organic produce is, of course, one of the biggest draws of farmers markets. Here are some other things you can find at farmers markets:
Eggs: Small local farms are less likely to use intensive farming methods with their hens, so their eggs are free of harmful chemicals. Their eggs are also fresher since they don't travel as far to get from the farm to the market.
Honey: Local honey has more flavor and health benefits than the honey you'll find at the grocery store. Buying local honey is also an environmentally friendly choice because it helps support the local bee population.
Dairy: If you enjoy a fresh yogurt bowl or a glass of milk with cookies, pick up some locally produced dairy products while you're at the market. You'll get fresh, flavorful milk and support the local economy.
Cut flowers: Whether you need to pick up a quick gift or you just want to brighten your home, farmers markets offer beautiful flowers at excellent prices. You're likely to find a wider, fresher selection than you would in stores because farmers cut only local flowers — which can help you achieve that effortless "just picked" look you're after.
Beef: Grass-fed beef is naturally lower in fat and higher in Omega-3 fatty acids than beef raised on corn or another industrial feed. It also just tastes better. Pick some up for burgers or steaks and taste the difference.
Bread: There's nothing quite like a fresh baguette or loaf of sourdough or ciabatta — you'll find all kinds of breads at the farmers market. Many markets also have a few gluten-free vendors for those with dietary restrictions.
Crafts and decor: When you go to an Amish farmers market in Lancaster, you're sure to find handmade home goods like Amish quilts, furniture and decorations. Support local artisans and check them out.
Fruit butters and jams: While fresh produce is only available on a seasonal basis, you can usually find preserved fruits, fruit butters and jams at farmers markets year-round. Because it's handmade in small batches, you can trust in high quality without the same preservatives as store-bought preserves.
Smoked meats: Artisan-smoked meats and cheeses are great for charcuterie boards, sandwiches and everything in between. From beef jerky to fresh bacon and sausages, you'll find it all at Lancaster farmers markets.
Regardless of whether you came to the market with a list or you're just there for the experience, you're sure to find something you like. Give yourself a little wiggle room on your list in case something new catches your eye. You might just find a new favorite.
Find Weaver's at Your Farmers Market
If you're already planning your next farmers market excursion, be sure to stop by one of our stands for delicious smoked meats, specialty cheeses and sweet baked goods. We've followed the same recipes and cooking methods since 1920, so you know you'll get an authentic taste of PA Dutch cooking when you try one of our products. Click here for a list of all our market locations to get started.
Want to bring a taste of Central PA back home? We can send your market favorites to you! Order your favorite products from our website and get them shipped right to your door. For tips, recipes and more local flavor, check out our Foodie Corner blog.