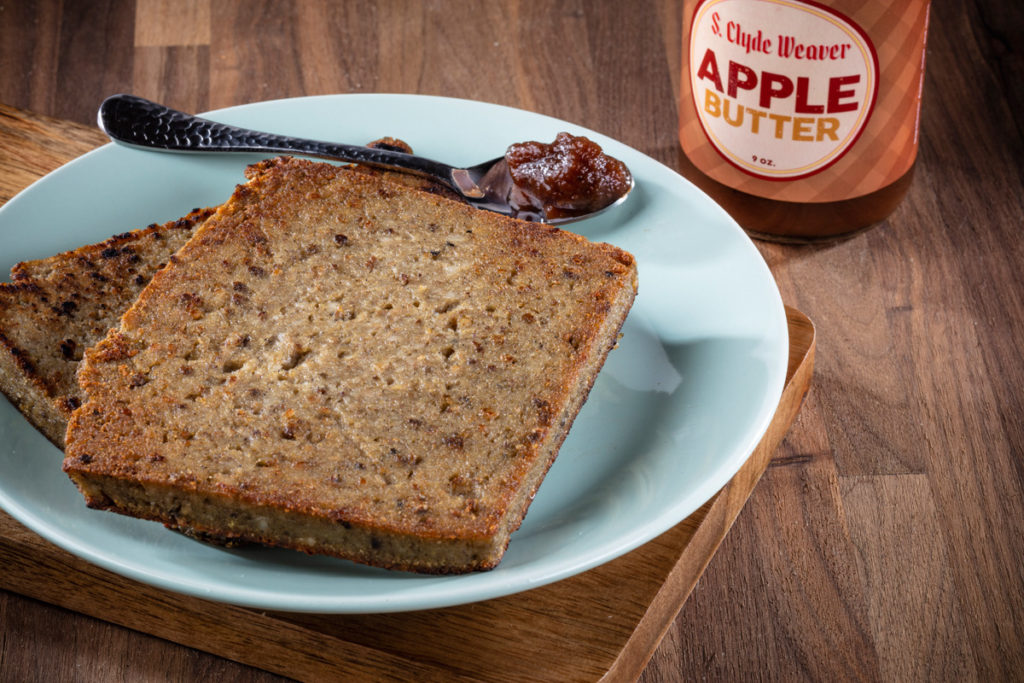 Ever heard of scrapple? Here's S. Clyde Weaver's scrapple definition.

Also nicknamed "poor man's bacon," scrapple is a breakfast and brunch favorite in Lancaster County. This dish has both Dutch and German origins, and it's most popular in areas of Pennsylvania with Dutch and German roots. Scrapple is usually made from finely minced pork meat and offal (liver, head, intestines etc.), spices and a course flour such as cornmeal or buckwheat.
To make scrapple, we first cook the meat and mince it thoroughly. Once the meat is cooked, we season it with salt, pepper and other spices. Then, we combine the meat mixture with buckwheat or cornmeal and cooked until it becomes firm. Next, we put the mixture into a pan and let it cool.
Once the mixture is cooled, it's almost ready to serve. At this stage, scrapple is usually sliced into 1/2-inch slabs and lightly pan-fried. Get yours now!
The Origin of Scrapple
Now a mid-Atlantic cult favorite, the concept for scrapple was brought over to America by German immigrants in the colonial days. Originally a type of meat pudding, scrapple borrowed culinary elements from Dutch and other nationalities until it evolved into the pork and barley mixture recognized as "country scrapple" or "Pennsylvania scrapple."
Scrapple has been a regional breakfast and brunch staple of many mid-Atlantic households since American colonial times. One of its trademarks is how easy it is to make due to the simplicity of its ingredients and preparation — two things colonial Americans valued highly. Today, it has even made its way into east coast restaurants as a regular menu item!
How to Eat Scrapple
Scrapple is traditionally sliced, lightly pan-fried and eaten with butter, apple butter or maple syrup. However, it's becoming a popular ingredient in breakfast sandwiches, wedged between egg and melted cheese or bagel halves. Scrapple is a surprisingly versatile food, so many people like to get creative.
We recommend pairing your scrapple with apple butter, maple syrup, horseradish, mustard or almost any kind of jelly. You won't regret it!
Product Highlight: Our Pennsylvania Dutch Scrapple
If you've never tried authentic scrapple or just want to taste a new variety, you've come to the right place! At S. Clyde Weaver, we make a delectable Lancaster country scrapple that you can try in-house or have shipped right to your door. Our country scrapple borrows Dutch and German flavors to create the perfect holiday breakfast or meal accompaniment.
Our Lancaster pork scrapple is made with premium pork meat, cornmeal, buckwheat and our special spice blend. It's available in one and 6.5-pound loaves. There is nothing quite like authentic Lancaster County pork scrapple — a recipe unique to our region and loved by customers all over the country!
The S. Clyde Weaver Difference
S. Clyde Weaver is a family-owned and operated producer of fine smoked meats, cheeses and other Lancaster County specialties. We've been serving our community for 100 years and counting, and it's our mission to provide you with artisan products that are second to none.
Browse our in-store and online products today!