There may be no appetizer that offers a more impressive sensory experience than a charcuterie board. If you've ever been scrolling through your favorite food blog and seen an amazing photo of a charcuterie board, you likely had to stop for a moment to take in the beauty and feel your mouth water.
The good news is that it doesn't take a culinary genius or an artist to create a beautiful and delicious charcuterie board. By following some basic guiding principles, anyone can create a charcuterie board that is both photogenic and flavorful. We're going to explain in detail how you can create a charcuterie board that is visually stunning and makes for a delicious experience for your family or guests at your next gathering.

What Is Charcuterie?
Charcuterie is a French word that refers to prepared meat products and the delicatessens that prepare these meats. While this is the technical definition, most people use the term charcuterie to refer to an assortment of cured meats, cheeses and other foods served together as an appetizer or even a meal. There are many options for what you can include on a charcuterie board, but cured meats tend to be a staple no matter what.
Shop Our Smoked Meat
Most charcuterie boards include a variety of colors, textures and flavors that are meant to create a visual feast as well as an edible one. Because charcuterie boards are meant to be like works of art, assembling a charcuterie board is just as much about arranging the different elements as it is choosing what to include. Therefore, you may also hear charcuterie used to refer to the art of arranging the various elements on a charcuterie board.
When Should You Serve a Charcuterie Board?
Charcuterie makes for a great appetizer or meal for nearly any occasion. Some of the best times to create and serve a charcuterie spread include:
Picnics: Charcuterie boards have an earthy feel that makes them perfect for a picnic. It's easy to pack the ingredients separately and quickly arrange them on a tray once you choose the perfect spot for your picnic.
Celebrations: Whether you're celebrating an engagement, a new home, a birthday, a new baby or any other of life's special moments, a charcuterie tray is a perfect way to enjoy special occasions.
Holiday gatherings: The holiday season is one of the most popular times to indulge in delicious cured meats and cheeses, so a charcuterie board is right at home at a Christmas or New Year's party.
Dinner parties: Charcuterie boards serve as an easy and impressive appetizer when you're entertaining. They can even serve as the main course if you're hosting a more informal dinner party.
Romantic dates: What is more romantic than enjoying a glass of wine and delicious food with someone you love? A charcuterie board is an excellent choice if you want to create a romantic date for you and your partner.

What Type of Board Should You Use?
Before you start arranging meat, cheeses and more, you need to start with the board itself. Even if you've never created a charcuterie board before, it's likely you have a board or platter on hand already that will work. Cutting boards, lazy susans, butcher's blocks and pizza paddles make great charcuterie boards. There are a few aspects of your serving board to consider.
1. Material
Of course, the word board suggests that the base of your arrangement should be wooden. Charcuterie boards are often wooden but not always. Slate boards, marble slabs and ceramic trays can also work perfectly for a charcuterie board.
Make sure whatever board or tray you choose is food safe before placing food on it. If the tray is meant to be decorative and is not food safe, you can line it with parchment paper for a quick and easy solution. If you want to make a wooden tray food safe and would prefer not to line it, you can lightly sand the surface and rub a mineral oil or beeswax into the surface.
2. Size
Perhaps more important than the material of your board is the size of your board. You want your board to look full and brimming with goodness, so if you're creating a charcuterie board for just a few guests or a special dinner date, choose a small board you can fill up with the ingredients you have. For larger gatherings, opt for a large board or platter that is big enough to create an impressive centerpiece for your table.
3. Shape
You will see charcuterie boards in all sorts of shapes. In addition to typical circular or rectangular boards, you can opt for a wooden board with natural, irregular edges. It's helpful to think practically about the tray or board you choose in addition to choosing one that helps you achieve a certain visual effect. Many people choose flat surfaces for their charcuterie arrangements, but some find it easier to choose a board with a lip along the edge since this will help hold everything in without allowing it to fall off the edge.

What Goes on a Charcuterie Board?
A wide variety of ingredients can work well on a charcuterie board. Some charcuterie boards keep it simple by including just a few quality cured meats and cheeses with a few olives sprinkled in while others pack in an extensive level of variety. If you want to create a spread with plenty of variety, your charcuterie board shopping list should include the following:
Cured meats
Cheeses
Bread or crackers
Fruit
Olives
Nuts
Shop Our Cheeses
How to Create a Meat and Cheese Board
Now that you know the basics, let's look in more detail at how to create the perfect charcuterie board for your occasion. Charcuterie recipes are really just about choosing what to include on your board. Everything you choose can be bought pre-prepared, so all you have to do is slice and arrange. The main thing is to choose the very best ingredients for your board.
Let's start by focusing on the essentials: meat and cheese. You can't go wrong making your own meat and cheese board as long as you choose a good variety of delicious meats and cheeses. The question, of course, is which meats and cheeses to include. Even if you're creating a small charcuterie board, we recommend including as much variety as you can, even if it means including a small amount of each element.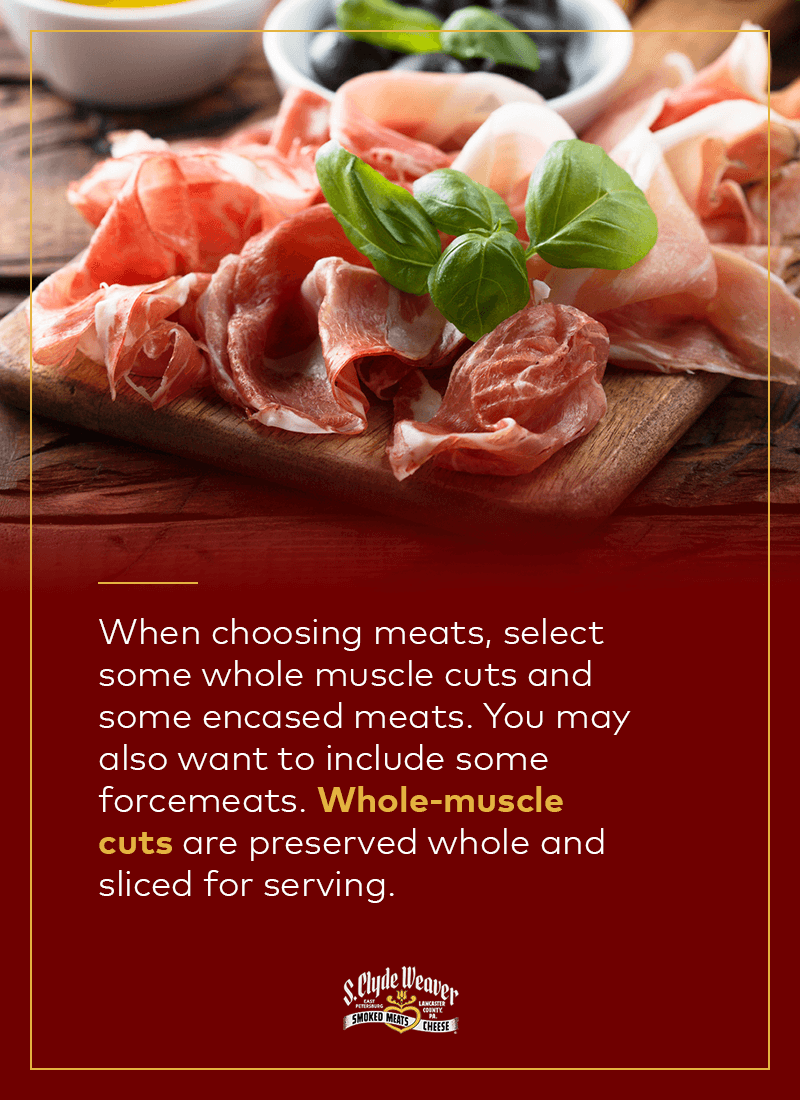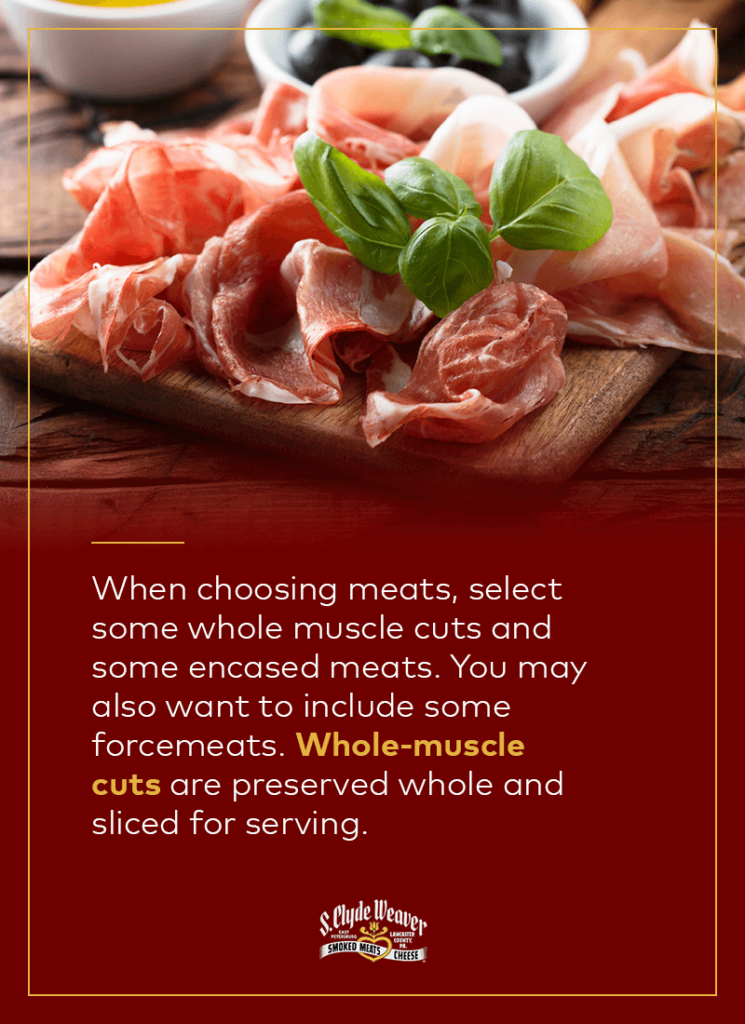 Typically, if you're serving your charcuterie as an appetizer, you'll want to make sure there is enough for each person to have a few slices of meat and one or two ounces of cheese.
When choosing meats, select some whole muscle cuts and some encased meats. You may also want to include some forcemeats. Whole-muscle cuts are preserved whole and sliced for serving. These meats are best served on a charcuterie board sliced extremely thinly. Encased meats may be served whole or sliced, depending on the size. Forcemeats are uniform mixtures of meat and fat that can add more variety in texture to your charcuterie board.
Some popular examples of charcuterie meats include:
Salami: Salami is a type of cured sausage and is a popular option for charcuterie boards. Arrange in a row of thin slices.
Prosciutto: Prosciutto has a time-honored spot on charcuterie boards. It should be sliced paper-thin and arranged in a pile on the board.
Bologna: Sliced bologna, like an old fashioned sweet bologna or Lebanon bologna, is a flavorful addition to any charcuterie board.
Pepperoni: Pepperoni is a type of salami that is packed with flavor and works well on a charcuterie board. Served sliced.
Ham: Ham is a crowd-pleaser that deserves a spot on your charcuterie board. Opt for a high-quality, artisanal ham and serve sliced thin.
Smoked dried beef: Many cured meats tend to be pork-based, so it's smart to include something different, like thin-sliced smoked dried beef.
Snack sticks: For some variety, include your favorite type of meat snack stick on your charcuterie board. Slice lengthwise or leave whole.
Pâté: The traditional forcemeat for a charcuterie board is pâté, a meat paste that contains liver and seasonings. Serve in a bowl.
When it comes to cheese, the options are nearly endless. You'll want to include at least three different types of cheese on your charcuterie board, so consider which cheeses are your favorites and which are likely to be crowd-pleasers. You may also want to include a more unique cheese your guests may have never tried to add some interest to your board. For visual variety, include some cubed or sliced cheese, as well as some wedges or cheese with serving knives.
Let's look at some popular cheese options you may want to include.
Fresh mozzarella: Fresh mozzarella is a curd cheese that can lighten up your charcuterie board. Serve sliced or in individual balls.
Brie: Brie is a white mold cheese with a runny texture. Serve as a whole wheel or as a wedge and add a sweet or savory topping if you want.
Swiss: Swiss cheese includes favorite like domestic Swiss, Lacy Lite and Jarlsberg. These cheeses look great as whole wedges or sliced.
Reblochon: Reblochon is a flavorful semi-soft, washed-rind cheese. Slice the wedge lengthwise, radiating out from the tip of the wedge.
Smoked gouda: Smoked gouda is a semisoft cheese with delicious flavor. Serve as a whole wedge or cut into long, thin slices.
Blue cheese: Blue cheese, like French Roquefort or English Blue Stilton adds color to your cheese selections. Serve as a whole wedge.
Aged cheddar: Aged cheddar is a great choice for any charcuterie board. Cut off part of the whole to show off the crumbly texture.
Havarti: Havarti is a semisoft cheese that will add a touch of tang to your cheese board. Havarti is typically best served in slices.
See our ultimate cheese guide for more ideas.
How to Create a Variety Charcuterie Board
Now that we've focused on meats and cheeses, let's look at what you should include on a more diverse charcuterie board. Most charcuterie boards feature a lot more than meat and cheese, though the meats and cheeses still tend to be the center of attention. The additions of things like crackers, fruits and spreads complement the meat and cheese and create a more well-rounded combination of flavors, textures and colors. Let's look at each of these complementary elements so you can put together a spread that is sure to please a crowd.
1. Bread and Crackers
Bread and crackers provide the perfect base for guests to enjoy cheeses and spreads on your charcuterie board. If you include bread, make sure it is a hard, crusty bread such as a French baguette so it is sturdy enough to be eaten as finger food. You can also include grissini, standing up in a glass. For crackers, choose at least two different kinds for a larger board so you have some variety. Some can be buttery crackers while some are multigrain or nut crackers.
2. Fruit and Jellies
Fruit elevates a charcuterie board, giving a touch of sweetness and lovely color. A variety of fresh fruits are right at home on a charcuterie board, including grapes, orange wedges, apple slices, pears, figs, strawberries, blackberries and more. Dried fruits also work well. Try sprinkling some dried apricots, mangoes or dates around your board. Including jam, jelly or preserves of your choice gives guests the opportunity to enjoy a baguette slice or cracker with a sweet topping.
3. Pickles and Olives
Pickles and olives provide a tart, briny flavor that pairs well with rich meats and cheeses. Include small bowls on your charcuterie tray for dill pickles or sweet gherkins along with some olives. You can have one bowl of marinated assorted olives or you can include two or three kinds separately. Just make sure either all of your olives are pitted or are not for consistency. You can also include other preserved vegetables, like pickled hot peppers, or fresh vegetables if you prefer.
4. Spreads and Dips
Including some jars or bowls of spreads and dips brings in a whole new texture for your charcuterie board and can provide whole new flavors, as well. Mustard and horseradish are traditional choices for savory dips, and honey is a popular sweet choice. Cheese spreads are also great additions to a charcuterie board. You may even want to try something less common like a dried beef spread. If you're including plenty of baguette slices, you may want to add some seasoned dipping oil to your board, as well.
5. Nuts
Nuts add a nice, salty touch to your charcuterie board. Since they are small, they are the perfect thing to save for last. Once the rest of your charcuterie board is arranged, you can look for empty spots and cover these spots with little piles of nuts. Peanuts, pistachios, almonds and just about any other nut you enjoy will work. You may also want to include some pretzels as an additional salty touch for your charcuterie board and a bit more variety.

Charcuterie Board Recipe
Prep time: 30 minutes
Total time: 30 minutes
Ingredients: 
Prosciutto, sliced thin
Two types of bologna or salami, sliced
Smoked dried beef, sliced thin
Pâté
Fresh cheese of your choice
Two types of hard cheese
Multigrain crackers
Baguette slices
Grapes
Berries
Figs, sliced in half lengthwise
Dried apricots
Jelly or preserves of your choice
Dill pickles or sweet gherkins
Marinated olives
English cucumbers, sliced
Mustard
Honey
Seasoned olive oil
Cheese spread
Pistachios
Roasted almonds
Fresh herbs
Instructions:
Start by placing the ingredients that should be served in bowls on the tray. This includes the pâté, jelly or preserves, pickles, olives, honey, seasoned dipping oil and cheese spread. If any of these items come in decorative jars, you can leave them in the jar or transfer them to a bowl if you prefer.
Next, place the prosciutto and smoked dried beef in small piles in two separate spots on the board. Place the encased meats in rows of slices.
Place the cheeses in any large gaps that remain on the board. Include any necessary utensils for serving the cheese.
Add the crackers and baguette slices to the board in neat rows wherever there is room.
Now, you can evaluate the board and look for any bare spots that need to be filled in. Cucumber sliced can be added either in neat rows or more irregular piles.
Smaller gaps can be filled in with clusters of grapes, halved figs and dried apricots. Rather than place all of one kind of fruit together, try to distribute the fruit across the board.
Pile small heaps of nuts in any remaining open spots on the board. You can include several smile piles of nuts in different places, depending on the size of your board.
Finish the board with sprigs of fresh herbs. Tuck the herbs in a few places around the perimeter of the board and in at least two spots within the interior of the board.
Evaluate your arrangement and see if anything needs to be moved to provide a varied color palette across the board.
Place the finished charcuterie board in an accessible location for guests. Bon appétit!

How to Create Seasonal Charcuterie Boards
Cheese and cured meats are in season all year round, but that doesn't mean you can't create a charcuterie board brimming with seasonal offerings to help you celebrate a certain holiday or time of year. Let's look at some examples for how you can create the perfect spring, summer, fall and winter charcuterie boards.
1. Spring
Spring is synonymous with new life and tends to be when we begin to naturally prefer fresher foods over the heavier foods that characterize winter menus. For a spring charcuterie board, consider including seasonal produce such as artichokes, strawberries and radishes, along with some light additions, such as a lemon yogurt dip. You may also want to include a fresh goat cheese. Finish off the board with plenty of fresh herbs, and you have a charcuterie board fit for Easter or a spring picnic or dinner party.
2. Summer
Summer is all about outdoor entertaining, so it's the perfect time to serve a charcuterie board full of the best the season has to offer. A lot of produce is in season during the summer, so you have plenty of options to choose from, including berries, tomatoes and other vibrantly-colored produce. Since grilling is a favorite preparation method in the summer, you can include grilled baguette slices and smoked sausage on your board for a delicious, unique seasonal touch.
3. Fall
Fall is when we begin to crave hearty, rich foods, so an autumnal charcuterie board should include richly-flavored meats and cheeses. Balance more pungent flavors with touches of sweetness. For example, candied walnuts, fresh figs and sliced pomegranates look and taste lovely on a fall charcuterie board. Consider what other seasonal touches your guests might enjoy, such as toasted pumpkin seeds or apple butter.
4. Winter
Traditionally, winter was the time preserved foods were made for, so a charcuterie board is the perfect appetizer for a holiday party or wintertime gathering. As with fall charcuterie boards, don't shy away from strong flavors in your meats and cheeses. For the other items on the board, in addition to the typical olives, crackers and such, opt for dried fruits, jellies and other preserved treats, as well as traditional wintertime delicacies like oranges and cranberries.

How to Create Regional Charcuterie Boards
You can also create a charcuterie board around a theme, such as a regional destination. Pick a country known for its meats and cheeses, like Italy or France, and stick as closely as you can to only including meats and cheeses that were originally created in the region, even if you purchase an American-made equivalent. Make sure your drink selection also hails from the country.
Regional charcuterie boards aren't necessarily limited to European countries. For an American charcuterie board, narrow in on a particular region. One of the best places you can select is Lancaster County. This region produces some of the best American meats and cheeses to rival European favorites. For example, you could include cheeses like Lancaster Colby and Lancaster Conestoga Sharp Cheddar alongside quality smoked meats from S. Clyde Weaver and round out the board with other Lancaster favorites.
Tips for Arranging a Charcuterie Board
Charcuterie design is arguably just as important as the ingredients you include on your board. Anyone can create a visually impressive charcuterie board by keeping these tips in mind.
1. Start With Bowls and Jars
Start your board by placing any bowls or jars you want to include. This will include dips, spreads and jellies, as well as olives and pickles. Space out the bowls and jars, leaving plenty of space between them for your meats, cheeses and other items. Include any utensils guests will need to pick up items in bowls or spread jellies and spreads.
2. Space out Meats and Cheeses
Once your bowls are on the board, next, you can place the meats and cheeses. Rather than putting all the meats near each other and all the cheeses together, instead, space out the meats and cheeses across the board. For visual variety, try to vary the appearance of your meats and cheeses. For example, some cheeses can remain in a whole wedge while others are sliced or cubed.

3. Include Pops of Color
Make sure you have an item on hand that offers a bright pop of color. This will help you add some visual interest to your board. Depending on the meats and cheeses you choose, you may find that your charcuterie board has a fairly consistent, earthy color palette that is lacking variety. A pop of color can make all the difference in this situation. Some examples include tomatoes or strawberries for a pop of red or clementines or carrots for a pop of orange.
4. Use Smaller Items to Fill Gaps
Once your charcuterie board is mostly complete, use any smaller items you want to include, such as fruit and nuts, to fill in the gaps. For large charcuterie boards, rather than put all the nuts together and all the fruits together, be sure to spread them out across the board. Put a little row or pile in one spot and another in a different spot. This helps to create the look of a board that is brimming with variety, like a cornucopia, rather than a compartmentalized platter.
5. Garnish With Herbs
Finally, to give your charcuterie board an extra special touch, use fresh herbs as a garnish. Herbs like rosemary, basil and thyme can add an additional pop of color, can help you fill any remaining bare spots and will also provide some lovely fragrance to elevate the whole sensory experience. Add sprigs of herbs in several spots spread out over the board. You can tuck some sprigs under cheese wedges or bowls to hold them in place.
Order Meats and Cheeses From S. Clyde Weaver for Your Charcuterie Board
If you want to create a delicious charcuterie board, be sure to start with the best quality ingredients you can find. Typical mass-produced selections from the grocery store just won't cut it if you want your charcuterie board to be something special. S. Clyde Weaver has a long history of producing high-quality smoked meats, cheeses and other delicacies that are fit for any special occasion.
We offer a wide enough variety to outfit an entire charcuterie board, especially if you choose to focus on traditional Lancaster County favorites. Browse through our online store or check out our S. Clyde Weaver Lancaster and East Petersburg locations and get started building the perfect charcuterie board today.