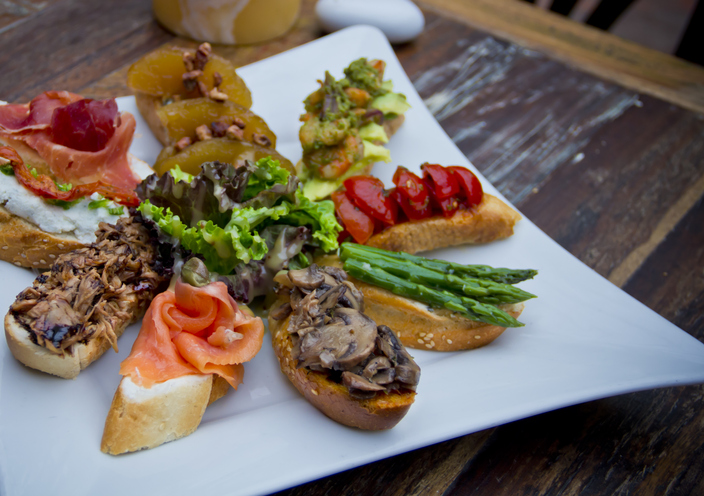 Tapas can be as simple as small plates of store-bought olives, anchovies, fried almonds, chorizo slices and quartered roasted red peppers passed around with pre-dinner drinks or they can make up a whole colorful meal or buffet of small dishes. If you want to go the latter route, try presenting a varied menu that combines something fried really crunchy and something baked; something briny and something mild; something saucy or salady and something dry. Any tapas bash should begin with a trip to market for Spanish cheeses, olives, marcona almonds, anchovies and dry-cured chorizo or good salami.
Here are ten tapas ideas so simple they don't really require proper recipes:
Boiled diced potatoes with chopped red onion, roasted red piquillo peppers*, chunks of good tuna, loads of good olive oil*and a splash of sherry vinegar *
oquerones* (white anchovies) on bed of julienned red roasted red peppers*, drizzled with reduced balsamic vinegar* and sprinkled with parsley
Cubes of Manchego* cheese marinated in Spanish olive oil* with aromatic herbs, such as thyme and rosemary
Simple seafood kebabs brushed with Spanish olive oil* that has been flavored with garlic and pimentón*(roasted Spanish pepper), grilled or broiled, and served with colorful saffron* allioli (mixture of olive oil, canola oil, garlic, egg yolk, lemon juice and sea salt)
Smoked salmon slices rolled around a salad of cooked salmon tossed with diced apples and cornichons*, shredded lettuce, and mayo served on endive spears
Steamed mussels, cooled and served on the half shell, drizzled with a vinaigrette of Spanish olive oil* and white balsamic* vinegar, a sprinkling of diced red, green, and yellow bell peppers and parsley
Dates stuffed with marcona almonds*, Cabrales* cheese, or small chunks of chorizo*, wrapped in bacon* and baked or broiled until crisp (turning them once)
Lightly steamed fat asparagus stalks, wrapped in roasted red pepper* halves, then in Serrano* ham slices, and grilled, griddled, or broiled for a few minutes
Green grapes rolled in goat cheese*, coated in coarsely chopped toasted almonds*, and chilled for about 1 hour
Grilled or roasted fig halves wrapped in Serrano* ham slices or topped with a smear of Cabrales* cheese
A smear of Cabrales* cheese on dried figs that have been marinated in port wine and drained
Also, here are some great ideas for easy skewers (banderillas):
Bites impaled on a stick are the most ubiquitous and beloved kind of tapa. They are called banderillas, after the colorful darts employed in bullfighting. Skewers of briny, appetite-stimulating things are ideal companions to appetizers and can be put together in minutes at home. Keep in mind that these tapas should be rather small, to be eaten all in one bite. Use the ideas below or experiment at your whim.
A quartered artichoke heart*, a cube Manchego* cheese and a cherry tomato
A chunk of roasted red pepper*, rolled-up Boquerone*, cube cooked potato and pimento stuffed olive
A cube of hard salami* or chorizo*, a pickled pearl onion and a chunk of red bell pepper
A hard-cooked egg quarter dabbed with mayonnaise, a poached shrimp, and a rolled-up anchovy
A chunk of poached salmon, a roasted red pepper* and a cornichons*
A cube of aged Manchego* cheese and one slice of membrillo* (quince paste) and a chunk of endive
A cube of honeydew melon and a rolled slice of Serrano* ham
*Denotes ingredients found in S. Clyde Weaver Stores
Source: Recipes © 2005 from The New Spanish Table by Anya von Bremzen, featuring over 300 unique recipes. The New Spanish Table portrays the food and culture of Spain at its most vibrant with the perfect pairing for delicious Spanish wines. (Workman Publishing Co. Inc.)