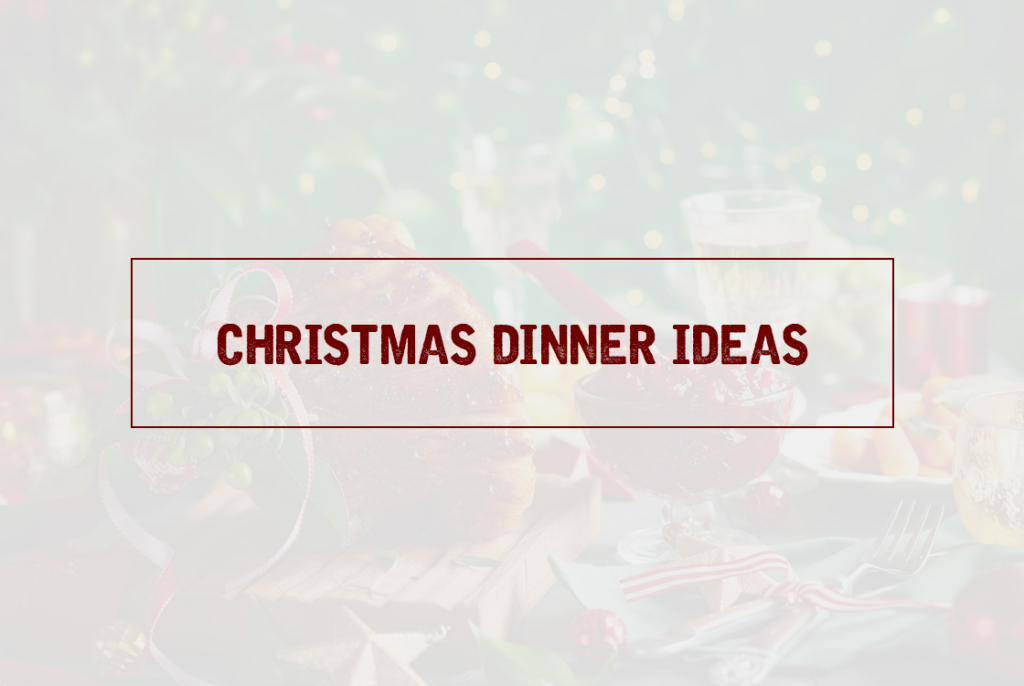 Christmas dinner is one of those occasions that should make you feel warm and happy just to think about. What's better than gathering around the table with family and friends for delicious drinks and festive food that you look forward to from year to year? If you're hosting this year, we have a guide to the best appetizers, main courses, sides, drinks and desserts to serve so you and your guests can enjoy the best the holiday has to offer.
Appetizers
Appetizers are the perfect way to begin your holiday dinner. You can either serve appetizers as a formal course at the dinner table before the entree or set them out for your family or guests to help themselves while they socialize before dinner. When it comes to appetizers, there's no need to search for elaborate, complicated recipes. Instead, focus on using high-quality ingredients to create appetizers that are simply delicious.
Another guiding principle for Christmas appetizers is to opt for appetizer recipes you can make ahead or ones that can be prepared or heated quickly when the time comes. Low-maintenance or make-ahead appetizers allow you to spend less time in the kitchen on Christmas and more time enjoying the company of family and friends.
Let's look at some winning appetizer ideas that will provide the perfect start to your Christmas dinner. These ideas can also be combined to create a delicious appetizer spread for a Christmas party:

Main Course
After enjoying some classic holiday appetizers, your guests' appetites will be whetted for the main course. For a traditional Christmas dinner, you have a few classic main course options to choose from.
During the Victorian era, the time that gave us "A Christmas Carol" and many of our current holiday traditions, Christmas dinners were often lavish affairs. Well-to-do households didn't choose just one main course. They would serve mince pies, turkey, ham, game pies, roast goose and more. Today, most home cooks focus on one main course rather than have their kitchen turn out such an overwhelming spread of meats. Two of these main courses remain popular Christmas entrees today — turkey and ham.
Christmas Turkey
Turkey has long been a Christmas staple, but it is, of course, most closely associated with Thanksgiving. If you plan to serve a turkey for Christmas dinner, look for ways to differentiate this meal from your Thanksgiving turkey dinner.
For example, you might try a different recipe for your stuffing, such as one that includes walnuts, prunes, cranberries or other festive flavors you don't typically include in your Thanksgiving stuffing. No matter when you're fixing a turkey, to impart extra flavor, brine the turkey before cooking or apply a rub of salt and your favorite spices.

Christmas Ham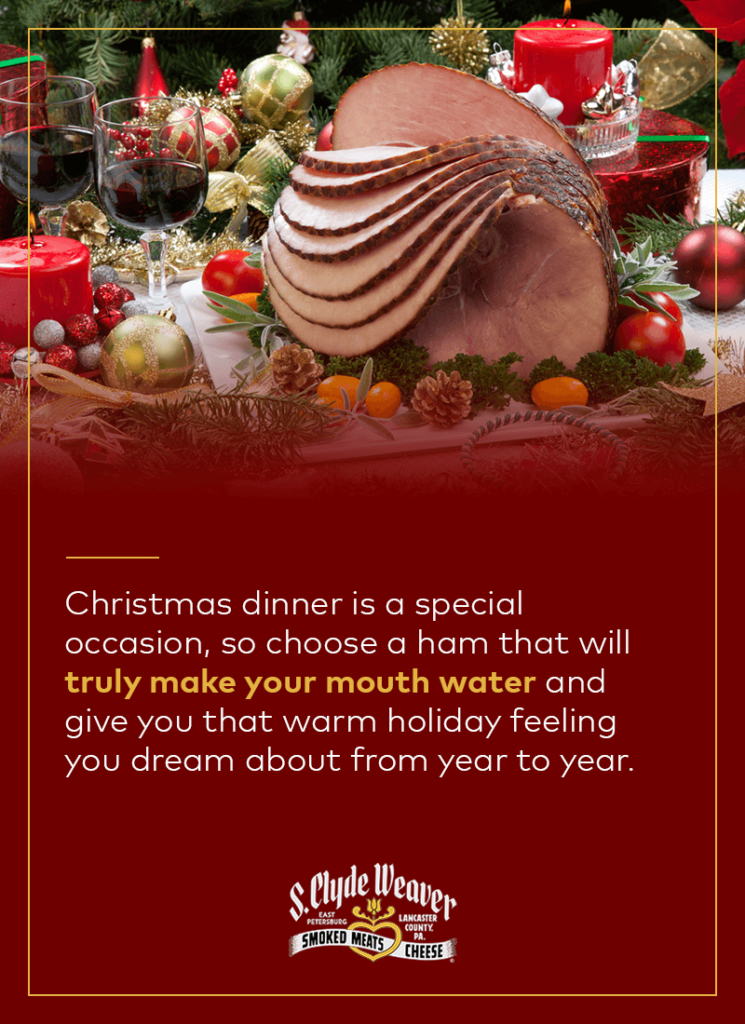 Perhaps the most traditional Christmas dinner entree for modern Americans is ham. Ham tends to be a crowd-pleaser for any family or dinner party. Who doesn't love the salty and sometimes sweet flavors of a delicious baked ham?
When choosing your ham, don't settle for the first ham you find at the supermarket. Christmas dinner is a special occasion, so choose a ham that will truly make your mouth water and give you that warm holiday feeling you dream about from year to year. For a ham that looks fit for a Victorian Christmas table, choose a bone-in ham. Just be prepared to carve around the bone. For a ham that is easier to carve, opt for a boneless or bone-removed ham.
Making Your Own Ham Glaze
One of the great things about ham is that it offers you the freedom to add your preferred flavors by glazing it. A quality ham doesn't need to be glazed to be delicious, but glazing your ham tends to give it a boost of flavor and festiveness that makes it perfect for a holiday dinner. Making your own glaze is simple.
With just a few ingredients you likely already have on hand, you can whip up a delicious maple glaze, fruit glaze or cranberry glaze to give your ham some extra flavor and a beautiful sheen. Spread the glaze on the outside of the ham and bake it uncovered. If the glaze begins to brown too much, cover the ham with foil until it is heated through. For an extra festive appearance, you can also add score the outside of your ham and add whole cloves.
Sides
Sides are just as important to the meal as the main course. For Christmas dinner, opt for classic comfort foods that will remind your family and guests of the warmth and joy of the holidays. Christmas dinner should be a time for enjoying rich flavors and forgetting about calories for just a little while. Most holiday sides should be served hot, but you can put them together ahead of time and let them simmer for hours or pop them in the oven in time for dinner.
These tried-and-true sides are sure to please your dinner guests this Christmas:
Winter salad with bleu cheese dressing: A salad can provide a lighter touch to your Christmas dinner. Start with tender spinach or leafy greens and add granny smith apples, walnuts or pecans, dried fruit and any other toppings you enjoy. Dress the salad with a homemade bleu cheese dressing made from basic ingredients you likely have on hand along with a quality Danish Blue Cheese or Roquefort.
Roasted root vegetables: Root vegetables are a traditional side for winter, and their rustic appearance and rich, earthy taste make them perfect for Christmas dinner. Cut root vegetables, such as beets, carrots, potatoes, parsnips and onions into equal-sized pieces, toss in olive oil and seasonings and roast on preheated pans in the oven.
Southern-style green beans: Green beans, in some form or other, are a staple at the holiday table. For rich, flavorful southern-style green beans, add a ham hock, diced ham or crumbled bacon, and allow the green beans to cook on low long enough to absorb the delicious meaty flavor from the pork. You can also add diced onions and minced garlic for even more flavor.
Smoked sausage with beans and potatoes: When you want your sides to feel warm and homey, a great option to include at your Christmas dinner is smoked sausage with beans and potatoes. Start with a quality smoked sausage, cut it into pieces and add green beans, onions, new potatoes, salt and pepper. The flavor from the smoked sausage will make everything in the pot taste smoky and delicious.
Sweet potato casserole: Sweet potato casserole, sometimes called sweet potato soufflé, is a timeless holiday classic that can sweeten up your side dish offerings. Mashed sweet potatoes combine with sugar, spices and binding agents to create a delicious mix. Top with marshmallows or brown sugar and pecans, bake and serve hot from the casserole dish.
Macaroni and cheese: Macaroni and cheese is one of America's favorite comfort foods, but this classic dish should be dressed up for a holiday dinner. Forgo the frozen or boxed macaroni and cheese and instead make your own, using quality cheeses like smoked gouda or a sharp cheddar. You can top your macaroni and cheese with a breadcrumb topping and even add bacon or pancetta for extra flavor.
Scalloped potatoes: Scalloped potatoes are another classic comfort food that goes well with any holiday meal. Start with russet or Yukon Gold potatoes cut into thin slices, add sliced onions and cover in a cream sauce and shredded cheese before baking. Choose a cheese to fit your and your family's taste ⁠— just make sure it will melt nicely. Some options include mozzarella, sharp cheddar, gouda, gruyere and fontina.

Drinks
Drinks for your Christmas dinner can be as simple or as elaborate as you want. You may want to start with a signature cocktail to pair with your appetizers, then bring out more drinks to go with the main course. Other drinks will pair well with the dessert course, which we'll look at in the next section.
Here are some drink ideas to warm and refresh your guests at Christmas dinner:
Christmas punch: Christmas punch is a sweet, tangy treat that can be alcoholic or not. Either way, it's the perfect way to start dinner. Christmas punch typically contains ginger ale, cranberry juice and some sort of citrus juice. Add fresh orange slices and cranberries for an extra touch of festiveness.
Sparkling wine mojito punch: For a light and refreshing signature cocktail, try a sparkling wine mojito punch. Start by mixing sugar and fresh lime juice. Add mint leaves and light rum and allow it to sit overnight or at least an hour. Before serving, strain the mixture and add the sparkling wine. Serve over ice and garnish with lime slices and mint leaves.
Wassail: Wassail is a hot mulled cider drink that has been traditional for Christmas since the Middle Ages. Traditionally, it includes hard liquor along with brandy, apple cider and spices like cinnamon and cloves, but the alcohol is optional. Some recipes will also include orange juice or peels or other add-ins. Wassail should cook long enough for all the flavors to marry and be served hot.
Mulled wine: Mulled wine is another traditional Christmas drink and is similar to wassail in that it includes apple cider, mulling spices and orange. Instead of hard liquor and brandy, however, mulled wine includes red wine, such as Cabernet Sauvignon. Mulled wine can be ready to serve hot in just 10 minutes, so it's an easy way to impress your guests.
Zinfandel: When choosing a red wine to serve with dinner, you want to consider what would pair best with your main course. When it comes to Christmas dinner, you typically can't go wrong with a Zinfandel. This wine has just the right amount of acidity and fruitiness, along with a touch of sweetness, all of which make it a great choice to pair with both ham and turkey.
Wheat beer: If you and your guests prefer beer with dinner, choose an earthy option that will fill your guests with the warm glow of the holidays. For Christmas dinner, opt for a wheat beer. Yeasty European beers that feature some sweetness pair well with ham, especially ham that is sweetened by a glaze.

Desserts
Cooking a Christmas dinner can feel like a marathon. Dessert is a part of the meal where you can choose pre-prepared options without sacrificing quality. Dessert is the perfect time to relax and simply cap off your meal with a touch of sweetness. Remember, the Christmas season is full of an endless parade of homemade goodies, so there's no need to overcomplicate your Christmas dessert.
That said, be sure to choose premade desserts from a company you trust to deliver great quality. You want to end dinner on a high note, and your guests don't need to know you let someone else do the baking.
Here are a few options from S. Clyde Weaver that are sure to be big hits with your Christmas guests:
Shoofly pie: Shoofly pie is a regional favorite from Lancaster County, but it's a perfect dessert for Christmas dinner, no matter where you live. With barrel molasses and blackstrap dark molasses, shoofly pie is rich, sticky and sweet. The crust is golden and delicious, and the pie is topped with crispy crumbs. Shoofly pie can be served with vanilla ice cream and whipped cream.
Sticky buns: Who doesn't love sticky buns? Any dessert with cinnamon is great for Christmas, and if you're lucky enough to have any leftover, they can serve as your Boxing Day or "Second Christmas" breakfast. We've been making our sticky buns from scratch since 1963, so we've had plenty of time to perfect the recipe and deliver deliciously sweet and sticky buns that will end your holiday dinner on the perfect note.
Sandtarts: The Christmas season is all about cookies, so it can be difficult to find unique cookies your guests will love. A Pennsylvania Dutch favorite you may have never tried are sandtarts. Like sugar cookies, they are made from butter, sugar and flour, but they are rolled thin and have a nice snap while still being melt-in-your-mouth from the butter. Our sandtarts are authentic and delicious, and they come decorated and in seasonal shapes.

Don't forget to accompany dessert with a tasty drink. There are two classic options you can serve with any Christmas dessert:
Eggnog: Eggnog is a Christmas classic that can be homemade or store-bought, alcoholic or nonalcoholic and served hot or cold. However you serve it, this creamy drink is unmistakably festive and extremely rich. This makes egg nog a good beverage to serve after dinner, with dessert or even by itself later in the evening. Top with whipped cream and a dash of cinnamon.
Coffee: Christmas is one of the most beloved days of the year, but it can also be a tiring one. If you and your guests need a pick-me-up after dinner, why not serve hot, aromatic coffee with dessert? You can also serve decaf coffee if you'd prefer to enjoy the taste and forgo the caffeine. Choose a blend that will perfectly complement the dessert you plan to serve.

Pennsylvania Dutch Christmas Traditions
We mentioned a couple of traditional Pennsylvania Dutch desserts, so you may be wondering what other Christmas traditions come from this culture. The Pennsylvania Dutch are sometimes also called Pennsylvania Germans since they were immigrants to America who remained in tight-knit communities in Pennsylvania where they continued to speak German.
Most American families are extremely familiar with the jolly old elf known as Santa Claus, but in Pennsylvania Dutch families, a more traditional concept was Christkindl, the Christ Child who was said to deliver packages in a similar manner to our modern-day Santa. Pennsylvania Dutch children are also familiar with the menacing Belsnickel, who would punish children for naughty behavior leading up to Christmas.
While most of us could do without Belsnickel, one old Pennsylvania Dutch tradition you might enjoy is "Second Christmas." This tradition denoted the day after Christmas as a day of relaxation at home, especially since Christmas itself involved religious activities like going to church.

Enjoy the Tastes of Lancaster County This Christmas With S. Clyde Weaver
S. Clyde Weaver is your trusted source for traditional meats, cheeses, desserts, coffee and more that bring the tastes and traditions of Lancaster County to your holiday table. Browse our selection online and start planning your Christmas dinner today. Every great dish begins with quality ingredients, so don't limit yourself to what your local grocery store has to offer. Weaver's products are a cut above, making them the perfect addition for a special occasion like Christmas dinner.